Gaza War Tests an Excellent Year for India-US Ties
As the war drags on, New Delhi is unlikely to swim against the tide and align with Washington.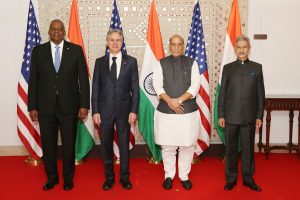 U.S. Secretary of State Antony Blinken and Defense Secretary Lloyd Austin visited New Delhi last week for their 2+2 inter-ministerial dialogue with India, capping off a year of intense summitry between India and the United States.
This meeting was especially significant. After intractable differences over Ukraine and Russia, India and the U.S. hoped to build common cause over Israel. In the aftermath of the Hamas terrorist attack a month ago, the two countries had reacted with an unbridled show of solidarity with Israel. India's Prime Minister Narendra Modi publicly declared his country's unequivocal support for Israel's Prime Minister Benjamin Netanyahu before many other world leaders had had a chance to react. The U.S. validated Israel's quest for retaliation against Gaza and protected it from censure on multiple occasions at the U.N.
Yet, as the war has gone on, cracks have begun to emerge in that common cause.
In the early days of Israel's retaliatory assault on Gaza, Modi appeared to shift India's position on the Palestinian dispute closer to Washington's. India abstained from a U.N. vote calling for a ceasefire in Gaza and framed Israel's counterattack as a war against terrorism.
But by the time Blinken and Austin were on their way to New Delhi, things had begun to change, as the Middle Eastern fracas broadened. Last Thursday, the U.N. General Assembly voted overwhelmingly to condemn Israel's illegal settlements in the "occupied Palestinian territory." As many as 145 states, including India, voted in favor of the resolution. The U.S., Israel and only five others voted against it.
At home, India has continued to crack down on pro-Palestine protests. But on the world stage, despite a pivot toward Israel in recent years, India has not entirely abandoned the Palestinian cause or expressed effusive support for Netanyahu the way Washington has. As the war rolls on and casualties mount, that gulf will steadily widen.
That is, in fact, the way that the rest of the world is headed as well. Heart-wrenching images and distressed pleas from Gaza are swinging global public opinion against Israel, even as members of Netanyahu's cabinet have launched obscene rhetoric against Palestinian civilians. The war itself has also widened beyond the narrow cause of defeating Hamas, and that shift has in turn diluted global support for Israel after the October terror attack. The latest U.N. vote on Israeli settlements, for instance, followed a mounting death toll in the occupied West Bank, where Hamas' influence is marginal.
Under the circumstances, the U.S. now finds itself increasingly isolated in Israel's corner, and despite India's burgeoning bonhomie with Israel, New Delhi is unlikely to swim against the tide and align with Washington. In particular, New Delhi is worried that Israel's ongoing operations in Gaza will jeopardize the marquee India-Middle East-Europe Economic Corridor (IMEC), which was introduced during India's G-20 presidency this year.
As Blinken and Austin made their way to New Delhi last week, these events cast a long shadow over the 2+2 dialogue with their Indian counterparts. But the four ministers still managed to keep the dialogue focused on much narrower goals — building defense ties between their two countries and continuing the transfer of U.S. weapons technology to New Delhi.
"We're building on a rather remarkable year of engagement," Blinken said in his opening remarks. Blinken was referring to Modi's trip to Washington early this year and U.S. President Joe Biden's visit to New Delhi which followed it, amongst other high-level diplomacy.
But 2023 was also remarkable for the fact that all that progress took place despite a long list of troubles: concerns in Washington over Hindu nationalism in India; New Delhi's dispute with Canada over an alleged extrajudicial killing; differences over dollar dominance and other global matters; rifts over climate change; and worries over the Modi government's quibbles with American NGOs and philanthropists.
The fact that none of these issues came in the way of India-U.S. relations this year speaks of the extent to which Washington is convinced that India will inevitably become an ally in the long run. Indian diplomacy has somehow ensured that sundry differences — whether in Asia, the Middle East or even North America — don't dent that confidence at all.