India-Maldives Relations Enter Choppy Waters
Maldivian President Muizzu has called for the removal of Indian military personnel from the archipelago and has threatened to review agreements with India.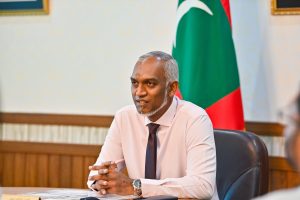 Hours after his swearing-in as Maldives' new president, Mohamed Muizzu "formally requested" India to "withdraw its military personnel" from the Indian Ocean archipelago.
According to a press release from the President's Office, the formal request was made during a meeting between Muizzu and India's Minister of Earth Sciences Kiren Rijiju, who was in Malé for Muizzu's swearing-in ceremony on November 17.
"The Maldivian people had given him [Muizzu] a strong mandate [in the September 30 election] to make the request to India" to pull out its security personnel from the Maldives, the readout said. It added that Muizzu "expressed hope that India will honor the democratic will of the people of the Maldives."
Building on the momentum of the "India Out" campaign spearheaded by former President Abdulla Yameen (2013-2018), which targeted President Ibrahim Solih (2018-2023) for allegedly compromising Maldivian sovereignty by permitting the stationing of Indian military personnel in Maldives, Muizzu made the eviction of Indian security personnel an important part of his campaign strategy.
The Muizzu administration has said that it is also reviewing some 100 agreements, including in the areas of defense and security, signed with India during Solih's presidency.
According to Maldivian Minister of Strategic Communication Ibrahim Khaleel, Muizzu's meeting with Rijiju was "very positive." There has been no official response from India to Muizzu's request so far.
However, it is evident that New Delhi is miffed. Prime Minister Narendra Modi, who flew down to Malé for Solih's inauguration in 2018, chose to skip Muizzu's swearing-in. Rijiju was sent instead.
An Indian Ocean archipelago of 1,192 islands, Maldives lies close to the East-West shipping route through which much of the oil from the Gulf heading to South, Southeast, and East Asia is transported.
While India's ties with the Maldives are diverse and deep and go back many decades, Chinese interest in the archipelago is recent. It was only in 2011 that Beijing set up an embassy in Malé. Sino-Maldivian relations have grown by leaps and bounds since then, especially during the Yameen years, when Chinese investment and influence in the Maldives surged ahead of that of India.
During Solih's presidency, India's ties with the Maldives were on an upswing. Its participation in Maldivian infrastructure development grew and defense cooperation increased.
That cooperation appears to be in some trouble now.
This isn't the first time that a Maldivian president has asked India to withdraw its military personnel from the archipelago. In 2018, Yameen refused to renew an agreement under which India had stationed two naval choppers that it gifted the Maldives and demanded the exit of Indian security personnel from the country.
Unlike Yameen who made the demand at the end of his presidential tenure – he was ousted from power in elections that followed a few months later – Muizzu's presidency has just begun. What is more, Indian investment in the Maldives was much smaller in 2018. India's stakes in the island nation are far bigger today.
At a press conference on Sunday, Undersecretary for Public Policy Mohamed Firuzul Abdul Khaleel said that there are 77 Indian military personnel stationed in the archipelago at present. Of those, "24 individuals are involved in helicopter operations, 25 are engaged in the operations of a Dornier aircraft, 26 are assigned to a second helicopter's operations, and an additional two individuals are responsible for the maintenance and engineering works of these aircraft."
According to a Maldivian analyst living abroad who spoke to The Diplomat, India was to provide training to Maldivians to operate and maintain the choppers but "dragged its feet, perhaps deliberately, to extend the stationing of its personnel in the archipelago."
With the Maldives lacking the capability to secure its vast exclusive economic zone (EEZ) against illegal fishing, narcotics and arms trafficking, and extremism, India has been its net security provider. Not only has India set up the Maldives' defense infrastructure – including establishing a coastal surveillance radar system, a military hospital, and a training facility for the Maldivian National Defense Force (MNDF) and building a harbor – but also New Delhi provided its neighbor with aircraft, choppers, sea ambulances, a landing craft assault ship, and interceptor boats among other military hardware.
Importantly, it has also provided training to Maldivian forces. Consider this: India has met 70 percent of MNDF training requirements. "In the past 10 years alone, India has trained over 1,400 MNDF personnel – an impressive streak for a military force of 4,000 personnel only," Aditya Gowdara Shivamurthy wrote on the Observer Research Foundation website. India also undertakes joint patrolling and surveillance of the Maldivian EEZ, besides engaging in joint naval exercises.
India's defense cooperation with the Maldives is, of course, driven by its own security interests. The eviction of the Indian security personnel is bound to ruffle New Delhi's feathers. However, it will impact the Maldives "more" than it does India, the Maldivian analyst said.
Muizzu, who is said to be pro-China, may be planning to wean his country away from India by leaning more heavily on the Chinese for infrastructure development and trade. However, terminating contracts is not without costs for Maldives. In 2012, President Mohamed Waheed Hassan abruptly terminated a contract that his predecessor Mohamed Nasheed had signed with India's GMR Group to develop and manage Malé airport. It boomeranged as a Singapore Arbitration Tribunal ordered the Maldives to pay GMR $271 million in damages.
Geographical proximity has also made India the first responder during political, security and humanitarian crises in Maldives. Indian troops successfully averted a foreign-mercenary-backed coup attempt in November 1988. Indian relief operations played a significant role following the 2004 Indian Ocean Tsunami, a water crisis in 2014, and the COVID-19 pandemic. Indeed, the Maldives was the first recipient of India's Covishield vaccines in January 2021. A large number of Maldivians also come to India for education and medical treatment.
Muizzu's shrill demand for "India Out" was widely dismissed as campaign rhetoric. The exigencies of governing the country would force him to tone down his demands, analysts argued.
However, Muizzu has pursued the issue rather assiduously since his election. Not only did he begin talks on the withdrawal of Indian personnel with the Indian high commission in Malé soon after his election victory but he pressed the demand formally in his meeting with Minister Rijiju and also raised it in his inaugural speech, albeit without naming India.
A silver lining in an otherwise bleak bilateral scenario is the new Maldivian president has acknowledged the usefulness of the Indian choppers to Maldivians.
Soon after the Muizzu-Rijiju meeting, the Maldivian government issued a short press release in Dhivehi, which only reported the formal request made to India for the withdrawal of its security personnel. Another press release that followed in English referred to "the significant role of the two [Indian] helicopters in providing numerous emergency medical evacuations" to Maldivians.
India and Maldives have reportedly agreed to look for "workable solutions for continued cooperation." Whether Maldivian diplomacy will reflect the Dhivehi press release or the English one remains to be seen.
Meanwhile, India will need to change the way it engages especially in defense cooperation with its neighbors. Clandestine deals may be easier to clinch, but they will be targeted by the opposition parties. Moreover, India needs to learn to do business with parties and politicians in its neighborhood across the political divide in these countries. In this, it has much to learn from Chinese diplomacy in South Asia.