Non-Combatant Women of Myanmar's Spring Revolution
Their role in the anti-junta resistance is crucial but not known widely.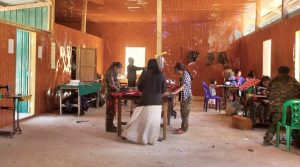 They do not carry guns to fight the junta in Myanmar. Unlike women combatants in battle fatigues flaunting automatic weapons, their role in the resistance has gone by barely noticed. But they are among the most vital cogs in a complex apparatus that sustains the war machine against Myanmar's military regime.
Meet the non-combatant women functionaries of Myanmar's Spring Revolution. They are more in number than their counterparts in active combat roles against the regime troops. They are performing varied roles inside and outside the camps of the resistance groups, inside the country and abroad, and engaged in perilous activities in a quiet and camouflaged manner to escape detection.
Citing independent analyst Dr. Miemie Winn Byrd, Minister of Women, Youth, and Children's Affairs in the National Unity Government (NUG) Naw Susanna Hla Hla Soe told The Diplomat in an online interview that women comprise an estimated 60 percent of the pro-democracy movement in Myanmar, whether in combat roles or non-lethal resistance efforts. "Many women in the Spring Revolution are usually silent but involved in important roles such as cooks and record keepers in the camps, medics, teachers, etc. and different from the active woman combatants.  Many young women are also active in logistics support and fundraisers roles as well," the NUG minister said.
In the course of my travels in Myanmar's Chin State and Sagaing Region between January and March this year, I met women combatants and non-combatants who are part of ethnic armed organizations (EAOs), the newly-formed People's Defense Forces (PDFs), and the Chinland Defense Force (CDF). While some among them agreed to be interviewed and photographed but without revealing their faces, others only shared their views about their roles and experiences on condition of anonymity.
Record Keepers, Tailors, Cooks, and Housekeepers
In Camp Victoria, the military headquarters of the Chin National Front, in Chin State, is an elongated structure of tin and timber, similar to many other houses in the sprawling establishment. But unlike the other houses, this one has a team of women tailors who stitch uniforms for functionaries of the Chin National Army (CNA) and members of other groups being trained in the camp. Around a dozen women work here six days a week from 8 a.m. to 2 p.m. to produce a fixed number of uniforms. They were trained by professional tailors for almost a month before being assigned this role.
Other women are cooking, maintaining records and housekeeping in Camp Victoria. The cozy wooden double-storied house where I was accommodated is a guest house with an office of two rooms on the ground floor for keeping records of the entire camp. The three-member team that maintains records in the office is headed by a woman in her mid-20s.
I had a brief conversation with her with the help of a translator.  She told me that she had been associated with the office for over a year and narrated how records are maintained systematically so that information can be retrieved when needed. All hard copies that are received have to be scanned, and all data, including those on monthly expenses, are recorded on desktop computers.
"We were trained for this role over many months.  At the beginning, it was tough for all of us but now we are enjoying the role," the head of the office management team said, adding that they have also completed the mandatory military training.
The system in place in Camp Victoria is typical of most EAO camps across Myanmar, with some variations. A large number of women are active in non-combat roles in EAOs like the Karenni Nationalities Defense Force, the Kachin Independence Army, and the Karen National Liberation Army.
The PDFs and CDFs are not as well organized or resourced as the EAOs.  No wonder, I spotted fewer women working in PDF camps.  At the Kalay PDF camp located deep in the mountains between Kalay and Tedim, I saw two women working as housekeepers and office managers.
There were five young women in a group of 41 at an early morning training session of the Chin National Defense Force (CNDF) at Kalay. They were most likely to be assigned non-military roles, CNDF commander Lal Than Mawia told me in an interview on January 25.  He was not in favor of deploying women in combat roles alongside men on the frontlines.
Filling the Education Gap 
Actively associated with the resistance movement outside the camps are smaller teams of women who are teachers, medics, and aid workers. While some are attached to resistance groups, others operate individually.
In north Kalay, the Pa Ka Pha (Local Defense Force) is running schools affiliated with the NUG. On January 24, The Diplomat visited three schools established in Letpanchaung, where about 200 students were enrolled. Three women teach the children at two centers.  One among them, who is in her early 30s, had previously participated in the civil disobedience movement (CDM). When asked about her experience in the school, she said that it is "a challenging job to keep the classes going and to motivate the children to come to school every day." Besides, "we have to remain prepared for all kinds of situations," she said.
Besides teaching in schools set up by resistance groups in the conflict zones, women are also teaching children of refugees at some border towns in the Indian states of Mizoram and Manipur. In Mizoram, while the majority of children have enrolled in government or private schools, around 106 students are attending classes at a refugee camp in Zokhawthar, which is affiliated with the NUG.
A teacher, who identified herself as Vung Sian Huai, is a woman in her early 20s. Hailing from Tedim in Chin State, she was teaching English, Burmese, and the Bible in a school before she fled to Mizoram a year after the coup. "There are five teachers, including four women, in this school in Zokhawthar," she said.  Expressing concern over children in refugee camps not getting admitted into schools in Mizoram, she said that women like herself "have decided to devote ourselves to fill the gap."
"I will continue my further studies only after democracy returns to Myanmar," added Vung Sian Huai.
Around 90 percent of the teachers associated with the five Spring Schools in Manipur are women, who were previously part of the CDM in Myanmar's border district of Tamu. These schools, which are also affiliated to the NUG, were established by the Burma Refugee Committee Kabaw Valley with the approval of village chiefs at some border areas in the districts of Chandel and Tengnoupal. The schools have remained shut since Manipur erupted in communal riots on May 3, which was followed by a crackdown by the government on Myanmar nationals in the state.
Paramedics and Nurses
Many women are engaged in healthcare services too. Their work is more challenging than that of teachers as they sometimes function in hostile situations as well. I heard gruesome tales about the military torturing and killing paramedics at Wetlet and Yinmabin in Sagaing Region. In Kalay in late 2021, nine women who were attached to a resistance group as paramedics were arrested and sentenced to life imprisonment.
In Chin State and Sagaing Region, paramedics and nurses are often associated with resistance groups. Chin Health Organization (CHO), for instance, has established 17 hospitals and 53 mobile teams involving a large number of women as paramedics and nurses.
In Thantlang township of Chin State, there is a team of members led by a doctor known by his nom de guerre, Dr. Amos, who had participated previously in the CDM. His team includes three nurses and five assistants. Speaking on phone from an undisclosed location, Dr. Amos drew attention to the "invaluable role" of nurses.  "The hospital that we have set up," he said, "cannot function without nurses." Their roles are "extremely crucial," he continued, pointing to the healthcare facilities that the medical teams are providing to residents in remote villages.
A woman I had met at a village near Letpanchaung in Kalay had a different role, albeit also in the healthcare field. A member of the Kalay PDF, her task was to administer medicines to the sick. Although women like her are in non-combat roles, they also have to ferry the injured from the battlefield to the camp and sometimes take serious patients to the doctors for treatment. Their numbers are reportedly more in south Kalay, where more PDFs are active than in the north.
On the Indian side, I met two groups of women paramedics and nurses who are helping refugees. Among them is a team of midwives at Zokhawthar in Mizoram. Two doctors and five nurses, who were previously associated with the CDM at Tamu across the border, have set up a "CDM Clinic" at Moreh in Manipur. In an informal conversation at Moreh on March 25, a doctor explained that teams are sometimes sent to provide medicines and treatment to refugee populations at other villages in Manipur. This clinic has remained shut since May 3 owing to mass violence and unrest in the state.
Aid and Humanitarian Workers
Since the coup in February 2021, the delivery of humanitarian assistance to conflict-affected populations has emerged as a major challenge for resistance groups as well as aid agencies. Such efforts have been constrained by restrictions imposed by the military on the movement of both people and goods. There have also been instances of frontline workers being detained and even killed.
Thang Sei, a parliamentarian from Tamu, pointed out that it is "huge challenge" for humanitarian aid workers not only to reach the displaced people, as they relocate frequently for security reasons, but also to maintain supply lines.
There is "a greater degree of security for humanitarian workers in Chin State than in Sagaing Region, which makes it easier to offer assistance to displaced groups here," he said.
Several factors have facilitated the delivery of humanitarian assistance in Chin State. One is that much of the territory in Chin State is under the control of resistance groups. Besides, Chin State is contiguous to India's Mizoram, where the state government and civil society groups have come out overwhelmingly in support of the refugees. There are safe routes through which workers can operate and commodities ferried to the displaced populace. The relatively safe environment here has facilitated the participation of women in the distribution of aid and relief.
I met a middle-aged woman who is delivering essential commodities to the IDP camp at Salen village in Chin State, where about 200 families have taken shelter. She was a member of the village committee that supervises the supply to the camp. The committee assigns responsibilities to residents in rotation without any fixed tenure. A few women are active in the refugee camps at Zokhwthar and Farkawn in Mizoram where they coordinate with the local NGOs.
Spies, Undercover Operatives, and Money Changers
The least known among the non-combatant women are those working as informers, money changers, and undercover operatives. They live in the shadows and resistance fighters are reluctant to share details about them. Some of them have suffered torture; others have been killed by the military or the Pyu Saw Htee (pro-junta militias).  In July last year, a teenager was decapitated by members of a Pyu Saw Htee in Magwe on the allegation that she was trying to convince some policemen to join the resistance movement.
Based on information provided by refugees in Mizoram and Manipur, it appears that more men than women work as spies and undercover operatives across Myanmar. Their primary task is to monitor the movement of regime troops, ferry weapons, and carry out undercover operations. In Kalay in Chin State, resistance groups have set up a network of informers, including women, who pass on information instantly when regime troops move out of their barracks for raids and operations.
Some women also work as money changers. They operate along the borders in an environment that is more secure than that in which undercover functionaries operate. They convert foreign currencies into the Myanmar kyat, which is then distributed through multiple networks to different destinations. Their roles have assumed great importance as expatriate communities in the United States, Canada, and Europe are remitting large amounts of money to resistance groups and the displaced people.
The varied and enormous participation of women in the Spring Revolution has provoked an aggressive retaliation from the military regime, which can be gleaned from the fact that at least 56 women and girls were killed in Myanmar between July and September of this year. A total of 613 women and girls have been killed since the resistance to the coup began more than two years ago, according to an estimate by the Burmese Women's Union.
A large percentage of these women are likely to be non-combatant functionaries, whose precise numbers are not known. Their vital roles were acknowledged by all the commanders and senior functionaries of the resistance outfits that I met during my travels in Myanmar earlier this year.
A major challenge for the groups and especially the PDFs would be to keep them engaged in the movement since there have been cases in Sagaing Region of some women withdrawing from active engagement as their grievances were not redressed.