Armed With SARS Lessons, China Fights H7N9 Bird Flu
10 years after SARS, China is fighting another viral outbreak – and seems to be winning.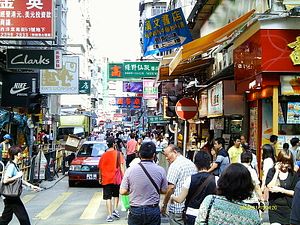 Hong Kong reported its second case of the avian flu strand known as H7N9 today, showing that the virus which first appeared in mainland China back in February continues to spread. To date, H7N9 has infected 138 in total. Of those, 45 have died.
According to reports, the first reported H7N9 case in Hong Kong was a 36 year old Indonesian domestic helper, while the latest case was an 80 year old man from Shenzhen. The Indonesian had also recently traveled to Shenzhen, leading Dr. Leung Ting-hung, Hong Kong's controller of the Centre for Health Protection, to believe that both cases were contracted in the mainland city.
H7N9 has not been shown to spread easily from person to person, meaning the risk of a large-scale epidemic is fairly low. Still, Hong Kong is taking no changes. The city has increased its border checks and the government isolated 17 people who had been in close contact with the first H7N9 victim. To date, none of the quarantined group had tested positive for the virus.
It's not surprising that Hong Kong reacted so vigorously to the outbreak, even though only two cases have been confirmed so far. This year marked the tenth anniversary of the deadly outbreak of another virus, known as Severe Acute Respiratory Syndrome (SARS), which infected around 1,800 and resulted in nearly 300 deaths. The anniversary meant Hong Kong and mainland China were reminded of the lessons from that illness just as another new virus began moving through the country.
The spread of SARS was exacerbated by a slow and even misleading response from the Chinese government. In early 2003, as in 2013, the Chinese government was undergoing a highly coordinated leadership transition. In November 2002, when the first cases of SARS appeared in Guangdong province, the government was determined to avoid negative publicity during this sensitive time. As a result, China did not report the epidemic to the World Health Organization until February 2003.
Even then, the Chinese government continued to drag its feet. Media reports on SARS were incredibly limited, which seems to have been a direct result of government interference. In an attempt to explain the decision, Chinese Health Minister Zhang Wenkang remarked in an April 2003 press conference: "The ordinary people of the mainland are not like the ordinary people of Hong Kong. Their education level is lower. If we released information like they did in Hong Kong, there would be chaos." His statement seems to provide evidence that the government was deliberately withholding information to avoid "chaos."
Even when the disease reached Hong Kong, where the free press covered it extensively, Chinese authorities tried to pretend the virus was not affecting other regions of the country. Officials stalled for weeks before finally approving World Health Organization requests to tour infected hospitals in Guangdong and, later, Beijing. There were rumors that government officials at both the national and local level were under-reporting the number of SARS-infected patients. Chinese doctor Jiang Yanyong even publicly contradicted the official government's figures while the World Health Organization urged China to be honest about the numbers involved.
Finally, in April 2003, China changed course. In short order, Chinese Health Minister Zhang Wenkang and Beijing Mayor Meng Xuenong were removed from their posts. At the same time, new President Hu Jintao ordered officials to accurately report on the spread of the disease. As a result, the government increased its tally of SARS infections in Beijing by nearly eight-fold, and officials began holding regular press conferences on the outbreak.
The lesson appears to have stuck. China's reaction to H7N9 was markedly different than its handling of SARS. China immediately notified the World Health Organization of a potential new virus, and began keeping careful track of all potential infections. Each new case was reported in state media outlets. Those who had come in contact with infected patients were quarantined, tested, or both. As it became clear the disease was a variation of bird flu, the government began cracking down on potential breeding grounds by culling poultry.  Chinese scientists also worked with the U.S. Center for Disease Control to upload a sequence of the virus to a public database, where scientists from around the world could access the data. Instead of pleading with China to be more transparent, the WHO expressed approval of China's response. WHO Director-General Margaret Chan called China's reaction to H7N9 "extraordinary."
It's not just about transparency, either. Since the 2003 SARS outbreak, Hong Kong has put in place new policies to catch and halt the spread of infectious diseases. As the BBC reported in March, these measures include a combination of health monitoring, strict hygiene procedures, and even quarantines. China's strategy for disease control will continue to be tested as winter returns and flu season begins in earnest. Already H7N9 cases have been popping up again. In addition to Hong Kong's two cases, Global Times reports that there have been four new cases in China since November.