Biden's China Visit: A Failure to Communicate
Joe Biden and Xi Jinping are talking, but are they actually saying anything?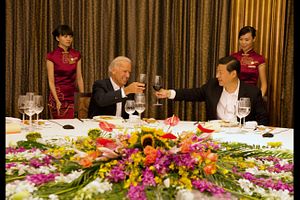 U.S. Vice President Joe Biden reached Beijing on Wednesday, the middle leg of an Asia tour that started in Tokyo and will end in Seoul later this week. According to senior officials from the Obama administration, Biden is in Asia to convey two main messages: That "we are and always will be there for our allies, and that there is a way for two major powers in the U.S. and China to build a different kind of relationship for the 21st century."
The first point, that the U.S. backs its treaty allies of Japan and South Korea, is being made mostly in the context of China's new ADIZ. The BBC reported that Biden promised to discuss U.S. concerns over China's ADIZ "in great specificity" during his meetings. Such promises are especially important to Japan. A senior Obama administration official emphasized that, "In terms of the U.S.-Japan position on the ADIZ, there is fundamentally no daylight between us." Such a strong show of solidarity may be good for cementing the U.S. commitment to its allies, but it makes it more difficult to achieve the second goal of Biden's trip: building "a different kind of relationship" between the U.S. and China.
The formulation of "a different kind of relationship for the 21st century" seems to be the U.S. equivalent of the Chinese phrase a "new type of great power relations." The idea is that the U.S. and China must work together to avoid repeating historical mistakes that have led to conflict between rising and established powers in the past. Of course, the devil is in the details — it's one thing to decide to avoid conflict, and another thing entirely to succeed.
Both China and the United States seem to have settled on increased communication as a key part of their "new type" of relationship. The large number of high-level visits in the past year certainly hints at a new level of commitment. In the past year, U.S. Secretary of State John Kerry, Treasury Secretary Jack Lew, and Chairman of the Joint Chiefs Martin Dempsey have all visited China, while China's Defense Minister Chang Wanquan, Foreign Minister Yang Jiechi, and Vice Premier Wang Yang have all come to the U.S. (the latter two for the annual U.S.-China Strategic and Economic Dialogue). Both sides agree on the need to continue this engagement. "To enhance dialogues and cooperation is the only correct choice for us," Xi Jinping told Biden. Biden also said the U.S. remains committed to "high-level engagement with China."
Still, against the background of China's new ADIZ, it's worth asking what good all this engagement is doing for the U.S.-China relationship. The supposed goal of increasing the number of high-level interactions is to help the U.S. and China improve their relationship — but to do that, the two sides need to do more than just meet. They need to actually communicate, something that all too often doesn't happen during diplomatic meetings. China's ADIZ announcement is a perfect example. The decision seems to have caught everyone off-guard, meaning the Chinese chose not to discuss it privately with other leaders in advance. Either they didn't think anyone else would mind or (more likely) they valued the strategic advantage of surprise over open, above-board communication.
The U.S. is just as guilty. In 2011, when President Obama announced that the U.S. would be stationing a rotating group of Marines at a base in Darwin, Australia, the Chinese were taken aback. Worse, U.S. analysts seemed overjoyed that the U.S. had been able to deal such a shock to Beijing. James Fallows of The Atlantic praised Obama for having "startled the Chinese leadership" with the surprise announcement of a new Marine base in Darwin, Australia. "The strategy was Sun Tzu–like in its patient pursuit of an objective: reestablishing American hard and soft power while presenting a smiling 'We welcome your rise!' face to the Chinese," Fallows wrote. Small wonder the Chinese don't trust U.S. intentions.
While this strategy might win short-term points for "gotcha" diplomacy, it's hardly conducive to establishing long-term trust between the two countries. Just as with China's ADIZ, it would have been far more productive to give a quiet heads up to the other party. In fact, in my discussions with Chinese military and foreign policy experts, their major concern with the U.S. "pivot to Asia" is not with the policy itself, but that China was given no warning of a major U.S. strategy change in the Asia-Pacific region. In their minds, an above-board pivot would have been merely a strategy shift; a surprise pivot implies the U.S. has something to hide from China. In both cases (the Chinese ADIZ and the U.S. marine base in Australia), the real damage came not from the policy decisions, but from the egregious lack of communication beforehand. For all their high-level meetings and dialogues, when push comes to shove, the U.S. and China still prefer secrecy over communication.
Put simply, this has to change for the two countries to be able to truly create a "new type" of relationship. While going through the motions of the U.S. and China, the lack of actual communication proves that both countries still see their relationship primarily as a strategic rivalry. The problem is even worse further down the ranks. A senior U.S. military official told me that during his work at U.S. Pacific Command, he could pick up the phone and call his counterpart in every country in the region — except for China and North Korea. Until both China and the U.S. start making an effort to communicate — especially before making unexpected military and diplomatic changes in the region — there's no chance of building any sort of real relationship, much less a "new" one.