Japan Doubles Down on ASEAN
Tokyo has had a busy year reaching out to ASEAN countries. Will the effort continue in 2014?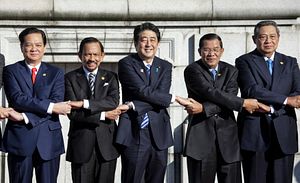 This month, Japan's Prime Minister Shinzo Abe finished up a busy year of diplomatic overtures in Asia with a summit hosting leaders from the Association of South East Asian Nations (ASEAN) in Tokyo. The Japan-ASEAN summit seemed a capstone moment aimed at cementing the ties made through Abe's visit to all ten ASEAN countries this year. During the meeting, Abe pledged an additional $1.65 billion in overseas development assistance and investment loans to the region.
Tokyo also secured a lukewarm joint statement with ASEAN that praised Japan's role and its "efforts in contributing constructively to peace, stability, and development in the region." Despite a significant diplomatic effort however, Abe failed to get a more coveted rebuke from ASEAN on China's recent imposition of a unilateral Air Defense Identification Zone (ADIZ) in the East China Sea. Instead, Japan settled for some platitudes about the freedom of navigation both in the air and in the seas. The lack of an ADIZ condemnation is not surprising as ASEAN remains divided on how much – if at all – it should prod China on its increasing assertiveness towards its regional neighbors.
Notwithstanding this divergence, Japan's efforts to woo ASEAN have been accruing benefits for Tokyo as it looks for partners in Asia to check Beijing's influence. This past year has seen several mini-victories for Tokyo in its attempts to reinvigorate its presence and influence in Southeast Asia. Ironically, two of these significant "wins" were achieved through a combination of Chinese miscalculation and opportunism by Japan. The first example was Typhoon Haiyan, which ravaged the Philippines in early November. While Beijing looked miserly and disingenuous in its response, Tokyo reacted with vigor and purpose, pledging more $50 million in assistance and deploying 1000 members of its Self Defense Forces to the area.
The second turning point was largely a self-inflicted wound created by Beijing's garbled decision on the ADIZ in the East China Sea. The ADIZ reaction was timid in ASEAN compared to retorts from Japan, the U.S., Korea and Australia. But the lack of a unified statement on the ADIZ should not be seen as acquiescence of China's move. Indeed, several countries in ASEAN – Vietnam and the Philippines in particular – remained deeply concerned the ADIZ in the East China Sea will be a precursor to the imposition of an ADIZ covering Beijing's territorial claims in the South China Sea. And ASEAN is not only watching the calculations and response from China. The newly diplomatic U.S. Vice President Joe Biden did little to reassure countries with a stake in the South China Sea row that Washington would take a firm stand on a SCS ADIZ.
On the geopolitical stage, these two events last month have served to catapult Japan's image in the region as a positive actor. But fortune and opportunism does not complete this narrative. Abe has placed a significant focus on targeting within ASEAN in order to strengthen Japan's access to new market opportunities. Of course, simultaneously curtailing Beijing's political sway is an added benefit. One prime example of this is the vast emerging partnership between Japan and Myanmar. During this month's ASEAN summit in Tokyo, Abe pledged an additional $600 million in loans to Myanmar which brings the total of Japan's investment loans to Naypyidaw this year to nearly $1.5 billion. Japan's courtship of Myanmar is designed to help construct infrastructure and railway networks connecting the country's biggest city, Yangon, with the rest of the nation.
Myanmar remains a critical part of Japan's engagement with ASEAN for other reasons too. After a frustrating year of Cambodia's ASEAN chairmanship, several member states and dialogue partners are sanguine in their predictions that Myanmar, which will be the new chair in 2014, could be less divisive. Naypyidaw is also important because is seen as drifting from its traditional heavy dependence on Beijing. Japan, along with the United States, Australia and the European Union, are anxious to fill any openings left after decades of Chinese suzerainty and compete for influence in the geostrategic country.
Japan has also targeted two other traditional partners of China – Laos and Cambodia. While Tokyo has maintained strong ties with other ASEAN members with larger economies, relations with Vientiane and Phnom Penh have lagged in recent years because of the deference these countries pay to Beijing. Abe seems intent on changing this dynamic, as demonstrated by his three day tour of the Mekong in November where he pledged increase maritime security cooperation with Cambodia and create a framework for holistic engagement with Laos on a range of development, defense and security issues.
Tokyo is hopeful that this nascent engagement with Naypyidaw, Vientiane and Phnom Penh could pave the way for increased market access and – eventually – new free trade deals. Japan already has a stack of Economic Partnerships Agreements in the region, including a deal with ASEAN and bilateral agreements with Singapore, Indonesia, Malaysia, Thailand, Vietnam, Brunei and the Philippines. Japan is also negotiating with many of these same countries in the huge U.S.-led regional trade pact, the Trans-Pacific Partnership. Indeed, more than half of Japan's total EPAs are in Southeast Asia. The only outliers remaining are Myanmar, Laos and Cambodia.
But as warm as the Japan-ASEAN embrace has been in 2013, some questions remain. First, the Abe administration was only able to focus its energies so deeply on Southeast Asia because of frigid relations with its Northeast Asian neighbors, South Korea and China. The absence of engagement between Tokyo and its counterparts in Seoul and Beijing has given Abe the diplomatic space in which to launch a charm offensive at ASEAN. The attention lavished on Southeast Asia could wane in the coming year if relations improve between Japan and its closest neighbors, refocusing Tokyo's attention closer to home. On the other hand, Tokyo's fixation with ASEAN may be tested at a political and security level if relations with China remain in freefall.
Second, both Japan and ASEAN are susceptible to other distractions at home. ASEAN continues to ramp up for its ASEAN Economic Community in 2015 and will need to calibrate its ties with Japan carefully to avoid overtly provoking China. Meanwhile, Tokyo may find itself awash in a host of other priorities including, but not limited to, the debate on its nuclear reactors going back online, political battles on national security and constitutional reforms, and unforeseen hurdles with Abenomics. Still, both sides can leverage obstacles for mutual gain. For example, the SDF deployment to the Philippines helped promote the Abe administration's argument for a new "proactive pacifism" while simultaneously giving some shelter to ASEAN countries taking sides against China. Such smart diplomacy, along with sustained face time between leaders, will be essential in the coming year to nurture and enhance this relationship.