More Violence in Xinjiang Leaves 8 Dead
Chinese state media are reporting another incidence of violence in Xinjiang.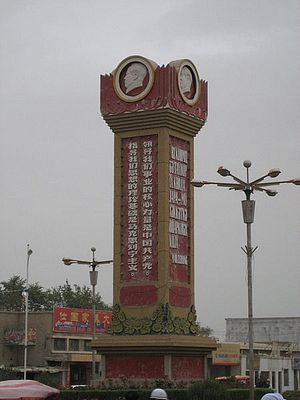 Chinese state media are reporting another incidence of violence in Xinjiang. According to reports from Xinjiang's state-run news portal, a group attacked a police station in Yarkand county at around 6:30 am on Monday (Beijing time). The attackers, armed with knives, threw explosives and set a police car on fire. Of the nine assailants, eight were killed by police and one was taken into custody.
The original news item described the attackers as "thugs carrying knives." However, Xinhua's official English-language report used the word "terrorist" three times in its brief synopsis of the incident. Foreign Ministry Spokesman Qin Gang also called the incident a "violent terrorist attack" and reiterated that the "Chinese government cracks down on these forces in accordance with law." However, in response to a direct question, Qin declined to tie the incident to any specific terrorist group, rather saying that the investigation was ongoing.
The Chinese media account is already being contested, however. A spokesman for the World Uyghur Congress (WUC) told the South China Morning Post that the nine alleged attackers were actually protestors who were "demonstrating against a series of arbitrary arrests." The spokesman denied that the group attacked the police station at all. The WUC made a similar claim after a clash in mid-December that left 16 dead. After the December 15 incident, the WUC called on the Chinese government "to condemn the latest of a string of killings by their security forces of demonstrators in East Turkestan [Xinjiang], in what is becoming a new trend of state sponsored violence." In a statement, WUC President Rebiya Kadeer called the recent deaths are part of "a recent trend of state-sponsored violence used to quell Uyghur dissent, whereby authorities ignore due process of the law, shoot and kill Uyghurs, label them terrorists, and then use counter-terrorism to justify the unlawful killings."
Once again, the details of the situation remain vague. However, it is apparent that these incidents are becoming increasingly common. According to South China Morning Post, the area near Kashgar alone has seen at least 72 deaths due to violent clashes since April 2013. In Xinjiang as a whole, there have been nearly 115 deaths, not counting the five people who died after the October attack in Beijing's Tiananmen Square. This is an issue that is likely continue into 2014 and beyond.
While it's difficult to verify the motives behind any particular attack, the reasons for general tensions in Xinjiang are easier to pin down. According to Uyghur activists, the native Uyghur population feels repressed, especially when it comes to religious expression. Meanwhile, the influx of immigrants from China's majority Han ethnic group has caused complaints that the Chinese government is attempting to marginalize Uyghurs within their own homeland. There is also a perception among some Uyghurs that the majority of economic progress in the region benefits these Han immigrants, rather than the natives.
On the other hand, the Chinese government argues that it has brought unprecedented prosperity to Xinjiang, which experienced GDP growth of over 10 percent in 2013. Officials point to online videos released by groups like the East Turkestan Islamic Movement and the Turkestan Islamic Party as evidence of a growing number of separatist terrorists in the region. Nearly every act of violence in Xinjiang, according to the government, was supported by one of these terrorist organizations. Beijing argues that such attacks are carried out by violent extremists, who do not have the support of the mainstream Uyghur population.
Beijing's response to the violence has been further crackdowns, which according to activists only increases the chances of future violence. Since March 2013, there has been an attack almost every month, almost all of which have left people dead. No matter who is behind the violence — organized terrorists or trigger-happy police forces —the incidents will almost certainly continue into 2014.
Updated to reflect a newly released statement by the World Uyghur Congress.