China, Pakistan Flesh Out New 'Economic Corridor'
The China-Pakistan Economic Corridor is a part of Beijing's greater strategic plan.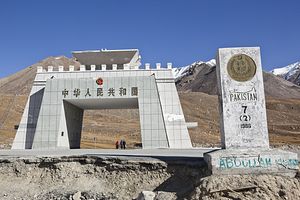 As Pakistani President Mamnoon Hussain wraps up a visit to Beijing, China and Pakistan are solidifying plans to create a new "economic corridor" between their two nations. The three-day visit to Beijing was Hussain's first official trip abroad since assuming the presidency. During his visit, Hussain met with Chinese President Xi Jinping and Premier Li Keqiang in talks designed to underline the historically close ties between the two countries. "Friendship with China is the most important pillar of our foreign policy and security policy," Hussain said just before his meeting with Xi.
Besides emphasizing China and Pakistan's generally close ties, Hussain's trip was focused on the new China-Pakistan Economic Corridor. The idea was first proposed during a visit to Pakistan last May by Chinese Premier Li Keqiang. Hussain has embraced the idea as well, predicting that the "project is going to be a monument of the century. It will benefit not only Pakistan and China, but also the whole region with billions of people."
According to Ahsan Iqbal, Pakistan's Federal Minister for Planning, Development, and Reform, China and Pakistan expect to sign cooperation agreements on projects to enhance transportation and trade during Hussain's visit. Such projects include construction of an airport at the Chinese-controlled port of Gwadar and upgrades to roads and railways. "In the past, the economic relationship could not match the political one. Now the leadership on both sides has realized that we have to bridge that gap," Iqbal told the Wall Street Journal.
In addition to building infrastructure, China Daily predicted increased cooperation "in the industrial, agricultural, mining, financial, telecommunication and service sectors." For its part, Pakistan's government is especially keen for China to help develop the energy sector in order to alleviate crippling power shortages. China has already committed $6.5 billion to build a new nuclear power plant in Karachi.
The list of projects to be completed in Pakistan is just the beginning. China has wider ambitions for the China-Pakistan Economic Corridor. According to Foreign Ministry Spokesperson Hua Chunying, the corridor will "serve as a driver for connectivity between South Asia and East Asia." Mushahid Hussain, chairman of the Pakistan-China Institute, told China Daily that the economic corridor "will play a crucial role in regional integration of the 'Greater South Asia', which includes China, Iran, Afghanistan, and stretches all the way to Myanmar."
The China-Pakistan Economic Corridor is one of many examples of China trying to enhance its economic integration with countries to its west. There are also plans to set up a Bangladesh-China-India-Myanmar Economic Corridor. On an even larger scale, the "new silk road" and "maritime silk road" represent complementary efforts to build up infrastructure for trade and transportation between China and Central Asia.
The end goals are twofold. First, China envisions its western transportation networks as an alternate route for oil and other energy sources. The China-Pakistan Economic Corridor, for example, is expected to include construction of an oil pipeline from Gwadar's port to northwestern China. China has also completed a pipeline from Kazakhstan, through which it imported over 86 million barrels of oil in 2013, and one from Turkmenistan. The "maritime silk road," meanwhile, is expected to increase security for China's shipping lanes through the Indian Ocean and South China Sea. The development of transportation networks to the west of China helps Beijing diversify energy sources and trade routes.
Second, China's western regions are underdeveloped compared to the eastern coastal areas. By focusing on westward trade, China hopes to spark a general economic boom in the west, especially in Xinjiang province. Beijing hopes that increased economic development and prosperity will help mollify the grievances of the native Uyghur population. Unrest has been increasing in the past year—Kashgar, the Chinese end of the new China-Pakistan Economic Corridor, has been the site of several incidents of violence in recent months. It's long been Beijing's hope that bringing economic benefits to restive regions can help ameliorate religious and ethnic tensions.
To achieve these goals, Beijing has been reaching out to new potential partners, including recent overtures to Sri Lanka and India. However, China would naturally focus special attention on implementing its plan with the cooperation of a long-time diplomatic partner like Pakistan. As China Daily pointed out, increased economic interaction will also help support China and Pakistan's longtime strategic and diplomatic cooperation. Should Pakistan reap the economic benefits of the new corridor, it could boost Islamabad's regional power and prestige—and it can only help Beijing to see the influence of a long-time ally increase.