Stand With Our Ally in Tokyo
For seven decades the US-Japan alliance has been the cornerstone of peace in Asia. Never has it been as vital as today.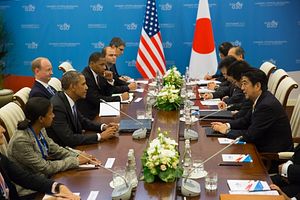 For nearly seven decades, the U.S. alliance with Japan has been the cornerstone of the American-led security order in East Asia. Together, our two countries have helped to usher in an unprecedented period of peace and prosperity in a region formerly identified with persistent conflict and endemic poverty. Working together through the long years of the Cold War to resist the Soviet Union's attempts to gain influence in the region, followed by more recent cooperation on everything from counterterrorism to disaster relief, the United States and Japan have established one of the most enduring alliances in modern times. Now, as Asia takes on a newfound importance in international relations, the alliance is poised to play a consequential role in shaping the security architecture of the region. More specifically, the strength of the alliance will help determine the course of the region's relationship with the People's Republic of China in the decade ahead.
China's announcement last November that it would establish an "air defense identification zone" (ADIZ) in the East China Sea was another test of the U.S.-Japan alliance and, more broadly, America's appetite for sustaining its commitments to the region. Since 2010, Beijing has consistently resorted to forms of coercion to patiently challenge the United States and its allies. I believe strongly that the United States should neither recognize nor accept China's unilateral declaration of an ADIZ and we should continue to conduct our military exercises and operations in the region so as to maintain the status quo.
Of the many instances of growing Chinese assertiveness, recent incidents surrounding Japan's southwestern islands are perhaps the most serious. Beijing has pursued its claims to Japan's Senkaku Islands, with official newspapers even going so far as to assert that the entire Okinawa island chain is Chinese territory. More ominously, Chinese incursions into Japanese airspace and territorial waters have grown exponentially in recent years, raising the prospect of potential miscalculations. As the Senkakus are under Japan's administrative control, unilateral attempts to change the status quo fall under the terms of Article 5 of the U.S.-Japan Mutual Security Treaty.
Some onlookers here in the United States have declared it unnecessary to commit the U.S. to defending a "pile of rocks" in the East China Sea. Give in to Beijing's coercion or split the islands in half and the problem can be solved, they insist. However, what is at stake are not maritime rights or airspace, but a set of rules-based principles that the United States has fostered and sustained in Asia since the Second World War. Allow these principles to be challenged or chipped away at by China today, and tomorrow Beijing will only press for more until commitments like "freedom of navigation" or "settling disagreements peacefully" are just phrases we once used to describe an orderly period in Asia's history.
I view the relationship between the United States and China as an emerging peacetime competition that demands a strong U.S.-Japan alliance to shape PRC decision-making in ways that are amenable to the region's rules-based order. While many democracies around the world are tightening their defense budgets, I applaud Tokyo for seeking to counter this trend with their own real increase in spending. Additionally, as I see it, Japan is not just spending more on defense but spending on the right kinds of capabilities, including investments in sea control, mobility, and ISR assets that will allow it to secure its archipelagic interests. Coupled with recent moves to establish a National Security Council and a defense research agency similar to the Pentagon's DARPA, Japan is positioning itself to be an anchor of stability in Northeast Asia. As Tokyo debates its future contributions to regional security, I welcome the development of a more "normal" Japan that can accept an equal share of alliance responsibilities in the years ahead.
Washington needs to reinforce its defense posture in the Asia-Pacific with new ideas and technology if it hopes to keep pace with the PRC's maturing anti-access/area-denial investments. First, this requires new doctrine and operational concepts like AirSea Battle that will enable our forces to operate more effectively in contested environments. We also need to think creatively about how we can use the capabilities we currently have in different ways to counter the PLA's counter-intervention strategy. Second, we must invest in platforms like submarines, amphibious capabilities, and a family of power-projection systems, among others. We also need to invest in a new generation of munitions that can keep pace with the demands of the maturing guided-munitions regime.  Finally, we need to nurture technologies like electromagnetics, directed energy, hypersonics, and electronic warfare that will help the U.S. keep its edge in game-changing capabilities.
Perhaps the best method for the U.S. and Japan to balance against PLA modernization efforts is to find areas that we can work together to match our competitive advantages against some of China's enduring weaknesses. By viewing the military balance as an extended peacetime competition, the alliance can find areas to impose costs on the PLA's strategy and shift the balance of power in favorable ways over time. One obvious area is undersea warfare where Washington and Tokyo retain qualitative advantages against China's nascent anti-submarine warfare (ASW) capabilities. Protecting and investing in the undersea competition with an expanded submarine fleet, new sonar technology, and unmanned-underwater vehicles could push China to reassess its posture and invest more time and resources in defensive ASW capabilities to counter the balance in the undersea domain. I believe a competitive strategies approach like this, developed by strategic thinkers like Andy Marshall, should be a framework for alliance defense planning in the decade ahead.
Moreover, Beijing's efforts to use different forms of coercion demand greater coordination here in Washington, including the formulation of a far more holistic national strategy for the region. That is why I recently led a bipartisan letter to National Security Advisor Susan Rice requesting that the Administration conduct an East Asia Strategy Review to better articulate U.S. efforts within our government and to our allies in the region. It is not enough to simply identify a laundry list of objectives; we must instead determine our goals and then decide on the right mix of ways and means to get us there. Although the Administration has been reluctant to conduct a review thus far, there is a growing bipartisan consensus among elected officials and the think tank community that this effort should move forward.
Lastly, the U.S. and Japan must find ways to generate greater trust and cooperation between America's allies and partners in the region. Making and keeping friends has never been more important. This is why steady alliance management and integration is a primary diplomatic and strategic task for the years ahead. In addition to devoting diplomatic attention to the Japan-Republic of Korea relationship, the U.S. and Japan should be considering ways to develop trilateral cooperation with countries like the Philippines, for instance.
The U.S.-Japan alliance has remained strong for nearly seventy years because of a shared national interest in a peaceful, prosperous Asia and the tremendous ties forged between our two nations since 1945. The challenge of a rising, assertive China should serve as a catalyst for both nations to reinvigorate their alliance, pushing Tokyo to undertake important national security reforms and compelling Washington to address lingering questions about its commitment to the region over the long-term. It is clear to me that a vigorous U.S.-Japan partnership is the most surefire way to safeguard the stability and prosperity of the Asia-Pacific in the decades to come. I look forward to finding ways for the Congress to encourage and support this critical effort.
Rep. J. Randy Forbes (R-VA) is the Chairman of the House Armed Services Seapower and Projection Forces Subcommittee. He is currently co-leading a bipartisan Asia-Pacific Oversight Series for the House Armed Services Committee.