At CICA, Xi Calls for New Regional Security Architecture
Xi sees CICA as the basis for a new regional security architecture for Asia, replacing the current alliance system.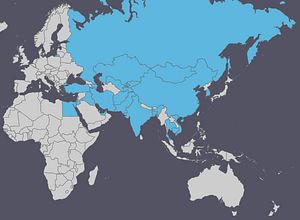 In his keynote speech at the Conference on Interaction and Confidence Building Measures in Asia (CICA), Xi called for the creation of a "new regional security cooperation architecture."  He proposed that CICA become "a security dialogue and cooperation platform" for all of Asia, from which countries can explore the possibility of creating a regional security framework. He further indicated that China would take a leading role in exploring the creation of a "code of conduct for regional security and [an] Asian security partnership program."
In promoting China's vision for a new regional security framework, Xi took specific aim at the basis for the current status quo: military alliances. Xi tied such alliances to "the outdated thinking of [the] Cold War." "We cannot just have security for one or a few countries while leaving the rest insecure," Xi said. "A military alliance which is targeted at a third party is not conducive to common regional security." Xi in turn offered an alternative vision for Asia, one based on an all-inclusive regional security framework rather than individual alliances with external actors like the United States.
As part of this rhetoric, Xi called for Asian problems to "be solved by Asians themselves." China has used this formulation before to imply that the U.S. has no role in mediating disputes. Xi expanded on this in separate remarks after the conference, where he reiterated that Asian nations are capable of solving their own security issues without extra-regional interference. He called for Asian countries to "completely abandon" old security concepts, presumably including the alliance system currently maintained by the U.S.
China clearly envisions CICA as playing a key role in regional security. Over the next two years, while China holds the CICA chair, Xi promised to "improve the status and role of CICA." One such improvement would be the creation of a new mechanism within CICA to allow member states to hold defense consultations. Xi also hopes to generally enhance CICA's "capacity and institutional building."
Currently, CICA (as mentioned in its name) is primarily focused on facilitating confidence-building measures between Asian nations rather than serving as a platform for addressing regional security issues. China is attempting to turn CICA into the basis for a new regional security framework—one that would be guided by Russia and China rather than the U.S. This new security vision also seeks to downplay the importance of alliances, a major source of U.S. influence in Asia. Instead, CICA would serve as the major body for the collective handling of security issues.
As Mu Chunshan noted for The Diplomat, the membership of CICA (skewed toward Central and Western Europe) means the organization is heavily influenced by Russia and China. This is visually evident in pictures of the summit, which show Xi and Putin walking or sitting together in front of the other leaders. The lack of member-level participation by the U.S. and key allies such as Japan and Australia means that Beijing and Moscow can effectively set the agenda. With China as the chair for the next two years, it's the perfect opportunity for Beijing to promote its own vision for CICA.
There are major hurdles to this vision, however. First, there's the inherent difficulty in getting such a large organization to change its purpose and culture. Asia encompasses an enormous geographical region and a multitude of cultures. Accordingly, each nation faces a unique security situation and has different priorities. It will be extremely difficult to reach a consensus on how to handle regional security issues in any meaningful way.
In addition, while Xi is right to point out that CICA is the most inclusive multilateral body dealing with Asian security issues, it's not all-inclusive. Some of the most notable non-members states are located in the Asia-Pacific, including Japan and Australia as well as seven of the ten member states of ASEAN (Brunei, Indonesia, Laos, Malaysia, Myanmar, the Philippines, and Singapore). Of these non-members, Indonesia, Japan, Malaysia, and the Philippines are observer states while the rest have no official connection to CICA. CICA also has a representation gap in the Middle East; Saudi Arabia, Oman, Yemen, and Lebanon are neither members nor observers. In other words, CICA simultaneously faces the problem of being large enough to make consensus difficult, but not large enough to include all the major regional players.