Missiles in Lieu of Meetings
North Korea has taken to launching missiles in defiance of its recent isolation.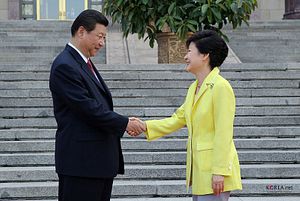 As regional meetings (particularly China's) continue to show the isolation of North Korea's new leader Kim Jong-un, the country has resorted to its preferred response: missile launches. While these launches are typically good at drawing regional attention in the hopes of bringing Pyongyang to the negotiating table in return for a cessation of hostility, the launches over the past two weeks have done little to alter the course of events and negotiations in the region. China in particular, as North Korea's only ally, has made a point of not addressing the provocations. Even as North Korea makes incremental progress with Japan over its abductees, China's continued silence further highlights Pyongyang's isolation.
On Wednesday, North Korea fired what are suspected to be two short-range ballistic missiles into the Sea of Japan from its province of Hwanghae. South Korea's Joint Chiefs of Staff spokesman Um Hoy-Sik said the Scud-type missiles were fired at 4:00AM and 4:20AM, while another JCS officer said "The North appears to be issuing a threat that it can fire missiles anywhere and at any time," according to the Korea Times. While this is the fourth missile test by Pyongyang in just two weeks, it is the first time in almost twenty years that it has fired them from its territory on the inland sea, instead of from its east coast.
Aside from Chinese President Xi Jinping going to Seoul last week for an official visit before first visiting Pyongyang, he has yet to meet with North Korea's new leader, despite having met with South Korean President Park Geun-Hye four times.  The most recent launches on Wednesday came just hours before U.S. Secretary of State John Kerry was due to take part in annual talks with his Chinese counterpart in Beijing to discuss bilateral issues, which will most likely encompass Pyongyang's missile tests.
There is also no sure footing with Japan, even though Japan has recently agreed to scale back some sanctions and allowed for easier travel between the two countries in return for North Korea's continued progress in investigating abducted Japanese citizens. In an interview last weekend, Japanese Prime Minister Shinzo Abe said the sanctions could quickly be reinstated if substantial progress was not made by the time Pyongyang's initial report is due by late summer or early autumn, and that progress must be demonstrated from the beginning. While Abe dangled the carrot of normalizing ties with North Korea, he said that before that could happen Pyongyang would have to reveal everything it knew about the abductions, return all Japanese citizens, and surrender the people responsible for the kidnappings to Tokyo, a very tall order for North Korea given its past record of cooperation.
North Korea also attempted to reduce tension with South Korea last week. On Monday North Korea's National Defense Commission proposed decreasing tension on the peninsula, and that in order to do so South Korea should cancel scheduled military drills with the U.S. The next day the South Korean Unification Ministry responded by calling the olive branch insincere, saying Pyongyang must first actively demonstrate it is serious about terminating its nuclear program. South Korea also accused the North of defying an earlier mutual agreement to reduce slander between the two countries.
Additionally, due to Pyongyang's ongoing negotiations with Japan, it has been unable to take an outspoken stance on Japan's recent reinterpretation of collective self-defense. In fact, North Korea is likely experiencing further isolation concerning this issue as both China and South Korea have issued opinions critical of the change, although Seoul's was a qualified critique, disapproving of Japan's right to collective self-defense within the Korean Theater of Operation in emergency situations, in order to blockade North Korean military forces. Between China and South Korea's growing economic ties (including the possibility of finalizing a FTA by the end of the year) and the reaffirmation of their opposition to North Korean nuclear tests during Xi's visit last week, Pyongyang may well be feeling as though its recent missile tests have failed to attract the attention they might have done in the past.
With reports that China has effectively cut off oil exports to North Korea, and further news that the country is experiencing a significant drought, possibly the worst in a decade, China's silence is certainly highlighting its leverage over the commanding heights of Pyongyang's economy. However, the North's military leadership does not appear to feel the need to make concessions to Beijing yet. Kim Jong-un's ongoing consolidation of power is likely taking precedence, with his frequent reshuffling of the military hierarchy reflective of those attempts. If he is able to successfully wield power as his father and grandfather did, he may feel secure enough to reopen ties with China, if he feels he has control over his side of the negotiating table. In the meantime China sees no signs of losing its influence over Pyongyang to another power, as DPRK-Japan negotiations can only go so far realistically, and Tokyo will not be able to supplant China's role as energy supplier, and any plans to use Russian energy to replace China are years away at best.