Kim Jong Un's Comments Reflect Growing Fear Over North Korea's Food Crisis 
The COVID-19 pandemic and U.S.-led economic sanctions have pushed the North toward an economic catastrophe.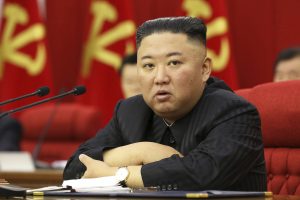 Since the coronavirus pandemic began in early 2020, North Korea's government has taken aggressive measures to prevent a massive number of infections within the country, cognizant of its lack of medical facilities. One of its aggressive measures was locking down the border with China, the biggest trade partner of the North. Since then, the North's economy has been sluggish as the pandemic continues – along with the border shutdown.
It is not the first time the North has been in economic straits. The country's worst economic crisis in the 1990s, known as the "Arduous March," caused millions of people to die from starvation.
That history hovered in the background when Kim Jong Un, the North Korean leader, issued a warning about a "tense" food situation this month during the meeting of the Central Committee of his ruling Workers' Party. The country's food supplies have failed to fulfill demand due to the devastating flood damage caused last year.
In recent ruling Workers' Party's meetings, Kim admitted the country's poor economic circumstances and urged party members to work hard to recover the sluggish economy and take care of his people's livelihoods. Kim convened a meeting of the Political Bureau of the Workers' Party on Tuesday and said his country's anti-pandemic campaign had caused a "great crisis." He reprimanded party officials for their irresponsibility and inability to live up to his efforts to build a self-reliant economy, according to North Korean state media.
Also, Kim seems to have lost weight recently, compared with his previous appearances. South Korean observers and critics say that it could be a strategic move to avoid responsibility over the North's food shortage crisis – a visible sign that the North Korean leader himself is eating less these days. South Korean local news outlets have reported that Kim's slimmed-down appearance is a type of "diet" governance. But other experts believe the weight loss is more an attempt to improve Kim's health, as his father and grandfather both died of heart problems.
"The state media do not actively assert he lives an austere life, and [the weight loss] is probably related to his health," Fyodor Tertitskiy, a researcher at Kookmin University in Seoul, told The Diplomat.
Some experts and journalists who get information from clandestine sources in the North say the food shortage is a symptom, rather than a cause, of the larger economic crisis in the country.
"What is happening in North Korea is not just a food supply issue," said Jiro Ishimaru, chief editor of Asia Press International, a website in Japan that monitors North Korea with sources inside of the North. "There is food in the markets of North Korea nationwide but food prices have risen too much and people's cash income has disappeared due to the COVID-19 pandemic, so they can't buy food."
Food prices have steadily risen and remain unstable, according to a report released last week by the Korea Institute for National Unification. Specifically, the price of rice has recently soared from $0.5 to $0.6 per kilogram to $0.9 to $1.4 per kilogram, the report said.
According to the report's analysis, food prices seem to have risen due to a lack of supply, but the possibility cannot be ruled out that North Korean authorities' intervention – through imposing limits on prices or public distribution – has played a role.
Along with the rising prices, North Koreans' distrust of Kim's leadership and anger at the authorities' incapability of handling the coronavirus pandemic have risen. As they fear starving and dying from the current devastating economic crisis, North Korea is likely to ask China and Russia for food assistance as it did last year, according to Ishimaru.
"The international community should provide goods or food aid, but North Korea will want to receive food aid only from China and Russia," he said. According to Ishimaru, "North Korea received 500,000 tons of food, such as rice and flour, from China last year and also some assistance from Russia."
North Korean's agitation is getting worse as anxiety grows among the people that they will starve to death. Already, people in vulnerable groups are dying of hunger, according to Ishimaru. The food shortage is ultimately artificial: The main reason for the crisis is Kim's excessive and aggressive measures, which blocked the border and tightened control over movement within the country. This has caused a lot of confusion and damage to the North's economic system, causing people to lose their purchasing power and run out of cash.
Meanwhile, inter-Korean relations and dialogue have been stalled since the U.S. and North Korea failed to reach an agreement at the Hanoi Summit in 2019. Seoul has said the ball is now in the North's court, and it will always be there to support the North if and when it asks. However, Pyongyang has shown animosity toward Seoul and Washington and rebuffed proposals from both, even offers of aid from the South.