Northeast Asia's Diplomatic Status Quo Persists
There is a flurry of diplomatic activity in Northeast Asia this week, but are things really changing?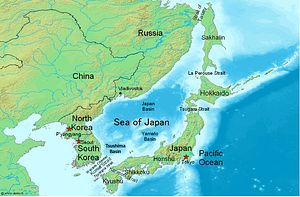 As Clint Richards notes over at the Tokyo Report, it's hard not to take note of the fact that as Xi Jinping and Park Geun-hye meet in Seoul, Japan and North Korea seem to be getting closer to resolving their long-standing dispute over Japanese abductees. Japan has moved to reduce some sanctions on North Korea in a tit-for-tat show of goodwill for the North making good on its side of the negotiations over the Japanese abductees. Meanwhile, Japan just announced a resolution on collective self-defense that only serves to deepen the Abe government's isolation from Zhongnanhai and the Blue House. Despite appearances this week, it is worth noting that there is no major realignment in Northeast Asian international relations.
Appearances would suggest three trends: 1) China is moving away from Pyongyang and towards Seoul, 2) Japan is winning influence in North Korea, filling the vacuum previously occupied by China, and 3) South Korea will join China against Japan. Diplomatic rhetoric, particularly between China and South Korea, has been warm. Qiu Guohong, the Chinese ambassador in Seoul, declared that Xi's visit was set to become "the most important milestone" in the bilateral diplomatic history of the two countries — a grand declaration by any yardstick. Similarly, Chinese media proclaimed that relations were "at their best in history." Furthermore, this visit marked the first time in a couple of decades that a Chinese president traveled to Seoul without a stop in Pyongyang on either leg of the journey — a slight against Kim Jong-un's government to be sure. Similarly, Japan's relative diplomatic success with North Korea — a country known for its duplicity and diplomatic abrasiveness — over the abductees issue suggests that something in brewing between Tokyo and Pyongyang.
While this reading of current events in Northeast Asia might be tempting, it could not be further from the truth. To address the first point above, there would have to be compelling evidence that China is interested in pursuing zero-sum diplomacy on the Korean peninsula, i.e. what it loses in terms of influence with North Korea it must gain with the South. While relations between Pyongyang and Beijing have admittedly not been great since Xi came to power, there is little evidence suggesting that Beijing is keen to abandon its historical clout in Pyongyang. The idea that this might the case began to come to the mainstream following Jang Song-thaek's execution and reports from North Korea that suggested Pyongyang wanted to actively alienate China.
Secondly, Tokyo's diplomatic successes on the abductees issue have more to do with Shinzo Abe's diplomatic agenda than any broad strategic rapprochement between the two countries. Japan's decision to ease some sanctions on North Korea does not suggest that the two are anywhere close to working together on other issues or that Tokyo has a modicum of influence over Pyongyang. Despite the popularity of his economic policies, Abe faces considerable opposition from the Japanese public over his recent decision to reinterpret Japan's constitution to allow for collective self-defense. Making headway on the abductees issue with North Korea is an opportune way for Abe to recoup some political capital when it comes to Japan's foreign relations.
The third trend — that South Korea and China might bandwagon against Japan — is perhaps the most unlikely of all. Yes, mistrust of Abe's intentions exists in both Beijing and Seoul but both nations have been content to express their displeasure over Japanese policies independently. At the same time, while relations have been generally good between Beijing and Seoul, there are good reasons for South Korea to remain wary of being quick to align with China. Additionally, as we saw at the Nuclear Security Summit earlier this year, the United States is beginning to overcome its reluctance to mediate between Tokyo and Seoul. Tokyo's collective self-defense resolution won't help tensions in East Asia, but it certainly is not enough to prompt a major shift.
Part of the reason that we won't be seeing any major realignments in Northeast Asia in the short term is because North Korea's nuclear program continues to persist and is an acute reminder that however threatening Japan may appear after this week's resolution on collective self-defense, the top threat to regional security comes from North Korea. Indeed, one of the major outcomes of Xi's trip to South Korea will likely be that the two countries affirm common ground on North Korea's nuclear program (though don't expect a drastic change of heart from Xi). Xi may even opt to bring up the issue of the long-stalled Six Party Talks.