Shinzo Abe's Approval Rating Dips Below 50 Percent
Following a slowdown in Abenomics' success and the collective self-defense resolution, Abe's approval falls.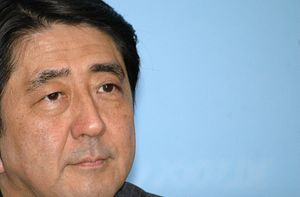 Japanese Prime Minister Shinzo Abe's domestic approval ratings have fallen below 50 percent, according to the latest political opinion polls. Abe, who recently pushed through a controversial cabinet resolution to reinterpret the Japanese constitution's pacifist clause to allow for collective self-defense, has generally remained a popular leader in Japan. His popularity stemmed in great part due to the apparent success of a series of unorthodox economic reforms known as "Abenomics." According to a Bloomberg report, Japanese support for Abe's cabinet is at the lowest level since his election in December 2012. According to a poll published in Japan's Nikkei, the cabinet's approval rating stands at 48 percent and its disapproval rating stands at 38 percent (with no margin of error supplied).
Two factors largely explain the fall in approval ratings: April's sales tax increase, which put the future of Abenomics into doubt, and the collective self-defense resolution passed in early July. The latter prompted rare public displays of political discontent in Japan, including protests and even one self-immolation in Tokyo's crowded Shinjuku district. Notably, Abe's December 2013 visit to the controversial Yasukuni Shrine did not seem to move public opinion numbers as significantly as either of these developments.
Additionally, Japan's most recent inflation data shows that the country fell far short of its desired 2 percent target, posting inflation closer to 1.3-1.4 percent in May and June. According to The Wall Street Journal, this is "a sign that [Abe's] economic revival plan is not working as advertised." Abe rode a wave of public support to become Japan's longest-serving prime minister since Junichiro Koizumi in large part due to the success of his economic policies. Abe, flanked by the bold Bank of Japan Governor Haruhiko Kuroda, was seen as holding the key to solving Japan's seemingly intractable fiscal and monetary problems. If Japan begins to stagnate, or if the success of Abenomics begins to plateau, public support for Abe is likely to continue dropping.
What's fortunate for Abe and the Liberal Democratic Party (LDP) is that Japan's opposition continues to remain remarkably weak and is unlikely to seize on this burgeoning shift in attitudes toward the government. The Bloomberg report notes that the LDP is more likely to suffer the consequences of lower approval ratings in local elections. One LDP-backed candidate for a local governorship unexpectedly lost an election to his Democratic Party of Japan (DPJ) opponent in the aftermath of the collective self-defense reinterpretation. Other local elections this year will test continue to test the LDP.
All things considered, 48 percent gives Abe a still relatively comfortable approval rating cushion, particularly when compared to his DPJ and LDP predecessors (including Abe himself in his first term as prime minister, from 2005-2006). According to a Nikkei survey from last April, Abe's approval peaked at 76 percent.
That Abe's approval rating dropped following the collective self-defense resolution will be encouraging for China and South Korea, who recently consulted on Japan's role in Northeast Asia. China, which is currently engaged in a heated dispute with Japan over the sovereignty of the Senkaku/Diaoyu Islands in the East China Sea, reacted to the Japanese cabinet's resolution by warning it to not go against the wishes of the Japanese people. China, however, has its own public approval problems with the Japanese. 90 percent of Japanese citizens have a negative impression of China.