China's War on Drugs
There's been a rapid increase in both drug use and drug-related arrests in China recently.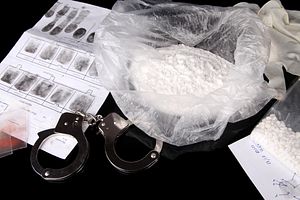 Under the Xi Jinping-Li Keqiang leadership, Beijing has declared "war" against poverty, pollution, terrorism, and of course, corruption. However, China is also quietly raisng the intensity of its war on drugs.
In a written statement released just before the International Day against Drug Abuse and Illicit Trafficking on June 26, Xi Jinping called for "forceful measures to wipe [drugs] out." Premier Li Keqiang added his voice as well, calling drugs a "common enemy to humanity." The high-level attention has been accompanied by increased action — The Supreme People's Court announced in June that drug-related convictions were up 27.8 percent compared to the first five months of 2013. In Beijing, drug-related arrests between April and August were up even more (35 percent) from the same period in 2013. Of the close to 40,000 people sentenced for drug offenses in the first five months of 2014, "over 9,000 were sentenced to more than five years imprisonment or death," according to an SPC deputy presiding judge.
Historically, China's drug problem has been concentrated in coastal and border regions, especially in the southern provinces of Guangdong, Guangxi, and Yunnan. However, according to Xinhua, the problem is expanding inland. Drug use is growing especially quickly among young people; Xinhua reported that 75 percent of new drug users in 2013 were under the age of 35.
China is particularly concerned about the rising use of synthetic drugs, including methamphetamine. According to a May 2014 report issued by the UN Office on Drugs and Crime, synthetic drug use is up all over the world, but especially in Asia. Between 2010 and 2012, global seizures of methamphetamine doubled, "primarily due to the rise of seizures in East and South-East Asia and North America." Meth use in China is not as severe as in other countries (the UNODC lists Brunei, Cambodia, the Philippines, Singapore, and Thailand as Asia's most affected countries), although the report says that the number of synthetic drug users in China is rapidly increasing. The Chinese leadership is determined to prevent the problem from spreading — thus the current crackdown.
China's police seem especially keen on catching Chinese celebrities who use drugs, allowing them to send high-profile warnings to others. Actor Gao Hu, 40, was the latest to be detained. He, along with three others who were not named, was arrested for possession of marijuana and methamphetamine. Gao's arrest follows the detention of actor Zhang Mo, who is also the son of actor and director Zhang Guoli. While the reason for Zhang Mo's arrest has not been made public, speculation in Chinese media suggests that he was nabbed for drug use. Film director Zhang Yuan and popular online author Chen Wanning have also been detained for drug-related offenses.  Chen reportedly admitted to police that he had been taking meth.
While the vast majority of those caught in the drug crackdown have been Chinese citizens, foreigners are also being nabbed in increasing numbers. China Daily reported in June that drug-related crimes involving foreigners had increased over 15 percent from 2013 numbers. Liu Yuejin, the director of the Ministry of Public Security's narcotics control bureau, indicated that most of the foreigners suspected of drug trafficking were from Africa.
China's harsh penalties for drug-related crimes combined with an increasing number of cases involving foreigners could create diplomatic issues. As The Diplomat reported yesterday, China recently executed two South Korean citizens on charges of drug smuggling. In the past five years, China has also executed one British and one Japanese citizen, who were each found guilty of drug possession in separate cases.