The New Face of Japan's Leadership
A Cabinet of new ministers could make holding course difficult on Abe's flagship policies.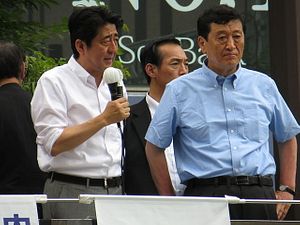 A large reshuffle of the Japanese leadership is scheduled for the first week in September, with a majority of both the Cabinet and the top cadre of the ruling LDP slated to be changed. Not only is Prime Minister Shinzo Abe looking to rearrange the leadership, he is expected to replace most of them. This will serve to help balance the different factions within the party, and also possibly allow some long-serving members of the nation's largest and dominant party to ascend to its top ranks, thereby giving them experience and quelling dissatisfaction over appointments some are likely to feel as long-overdue. Additionally, there is speculation that two government bodies that are highly important in advising both the prime minister and the government's top ministries may undergo reform, affecting not only Abe's many newly implemented policies, but also the portfolios and responsibilities of the new Cabinet members.
The Yomiuri Shimbun said on Sunday that Abe plans to change his Cabinet on September 3, the day after he reshuffles the leadership of the ruling LDP. These two events were arranged to accommodate Abe's bilateral meeting with Indian Prime Minister Narendra Modi, during which Abe expects to reach agreement on nuclear energy and weapons exports that could drive up domestic approval before announcing his new Cabinet. Government sources have stated that Abe plans to replace 10 of his current 18 ministers, while possibly adding two more posts to his Cabinet. Among those expected to stay in their posts are Chief Cabinet Secretary Yoshihide Suga, Deputy Prime Minister and Finance Minister Taro Aso, and Akira Amari, minister in charge of economic revitalization. Abe also plans on replacing the top three positions within the LDP, although Policy Research Council Chairwoman Sanae Takaichi is reportedly being considered for a Cabinet position, which would be in line with Abe's stated policy of trying to increase the number of women in leadership positions in Japan. There are currently four female Cabinet members.
In what will probably be the biggest change in leadership that week, LDP Secretary General Shigeru Ishiba has reportedly agreed to Abe's request to give up his position within the party and join the Cabinet. The Japan Times reported Monday that Ishiba will accept taking the new Cabinet position of minister of defense legislation if he is asked. "If I receive a formal request, I will accept the offer whatever post it will be," he reportedly told Abe's aides. Abe initially approached Ishiba about the position last month, however Ishiba has been hesitant to accept because he is widely believed to be considering a run for the party's presidency next September, a position Abe currently holds. As the current party No. 2, who also came in a strong second when Abe was elected party president in September 2012, he is considered a likely future prime minister. Carrying on within the LDP leadership would have made campaigning for the party's presidency easier, as a position within the Cabinet will not allow him to voice opposing positions to Abe. For his part Abe has said that he wants Ishiba in the new Cabinet post in order to shepherd the government's new legislation to codify collective self-defense through the next Diet sessions.
In addition to the changes in the country's top tier of leadership, the bureaucracy that undergirds and advises these positions could see significant reform. The Cabinet Secretariat and the Cabinet Office, which respectively advise the prime minister in his duties and help to draft significant government policies, are having difficulty streamlining their operations. The problem stems from ministerial and agency officials that are hesitant to relinquish responsibilities, and thus ties to the prime minister. The LDP is attempting to devolve responsibility over certain issues from the prime minister's office to the ministerial or agency level. Critically for Abe and his government, those responsibilities include regional revitalization, national strategic special zones, nuclear reactor decommissioning and measures to deal with the low birthrate. Many of these responsibilities are part of key policy initiatives that Abe is currently trying to implement. The LDP is hoping to streamline these responsibilities through legislation during the next regular Diet session. However, having this process in flux while a largely new Cabinet takes control could cause potential missteps in policy implementation.
While Abe will apparently address the largest of his Cabinet problems by installing Ishiba in one of the new ministerial posts, he will be working with a largely new group of ministers, a few of whom may be serving at this level for the first time. This current iteration of the Cabinet has been in place over 600 days as of Monday, well past the previous longest-serving Cabinet of Prime Minister Eisaku Sato at 425 days. These ministers have overseen the implementation of some of the most ambitious economic and security policies in a generation, and while their current approval ratings may be down, they have managed to implement some polarizing policies, like changing the interpretation of collective self-defense, without significant public backlash or creating a unified political opposition. Abe will strive to create a new government that is just as affective, and one that can continue to carry out his policy goals without losing momentum during the transition.