China, Japan, South Korea Hold Rare Trilateral Meeting
Plus, China's plan for a space station, the "war on pollution," media blackmail, and China & IS. Friday China links.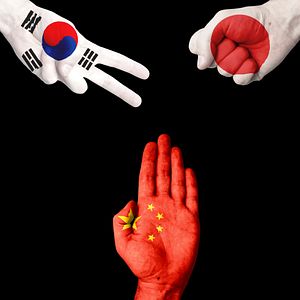 On September 11, China, Japan, and South Korea held their first high-level trilateral meeting since November 2013, according to Xinhua. The meeting, held in Seoul, brought together South Korean Deputy Foreign Minister for Political Affairs Lee Kyung-soo, Japanese Deputy Foreign Minister Shinsuke Sugiyama, and Chinese Vice Foreign Minister Liu Zhenmin. The meeting allowed the three countries to discuss the state of their relationship, with a special emphasis on the potential for holding a long-delayed trilateral summit between the top leaders of South Korea, China, and Japan. Such a summit used to held annually, but has not occurred since 2012, when China-Japan relations began to go downhill. Tellingly, the Xinhua story specifically mentioned separate bilateral meetings between Lee, Liu and Lee and Sugiyama, but none between the Chinese and Japanese representatives.
While there was no breakthrough on a trilateral summit, the three countries did agree to seek a trilateral meeting between their foreign ministers by the end of the year, Bloomberg reports. "It's the right time for us to revitalize this cooperation, building trust and removing stumbling blocks," South Korea's foreign minister, Yun Byung-se, told Sugiyama and Liu.
In other news, Xinhua cited the deputy chief of China's Manned Space Agency, Yang Liwei, as saying that China plans to establish its first space station in 2022. Yang also announced that China will launch a second space lab, Tiangong-2, in 2016. Tiangong-1 launched in September 2011. China places great emphasis on its space program as a barometer of China's scientific prowess and international prestige.
Over at the Los Angeles Times, Julie Makinen explores the question of whether China's government can effectively tackle the country's environmental woes. The piece notes that, despite China's top-level commitment to the problem, there are few examples of authoritarian countries conducting an environmental clean-up. General wisdom has it that an active, engaged civil society and independent court system are necessary components for pressuring polluters — and China currently has neither. As one environmental activist, Fang Da, told Makinen, "We need citizens to get involved with the environment … [People] think it's just the government's responsibility to clean up the air. But to be honest, it's the government that made it this way."
The New York Times reports on a group of Shanghai journalists who have been nabbed for extortion. According to confessions from the president of business news website 21st Century Net, the company threatened to run negative reports about companies that did not purchase advertising with the site. One of the arrested reporters called such practices "a hidden rule of the industry," hinting at larger problems within China's media landscape.  
Finally, check out the latest Sinica podcast (hosted at ChinaFile), which features hosts Kaiser Kuo and Jeremy Goldkorn speaking with New York Times reporter Edward Wong about the Islamic State (IS) and China. They outline the situation in the Middle East before going into detail about China's concerns vis-à-vis IS. The Diplomat's own Chen Dingding approaches the issue from another angle, arguing that China should join in the fight against IS.