ASEAN Finds Its Voice on Islamic State
The bloc has finally broken its silence. Can it now contribute to the fight against the terrorist outfit?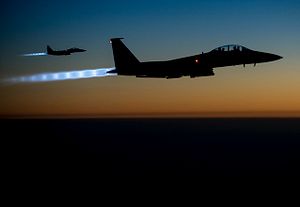 In a refreshing departure from its usual say nothing approach to all things diplomatic, ASEAN has finally broken its silence over the self-anointed Islamic State (IS), and issued its first joint statement on the crisis, warning of the threat the terrorist outfit poses to global security.
It also backed United Nations Security Council resolutions calling on the international community to suppress the flow of foreign terrorist fighters and their financing, saying they "not only pose a threat to the people of Iraq and Syria, but also to all countries in Middle East, and, if left unchecked, to the rest of the world."
The statement was issued after an ASEAN-US ministerial meeting on the sidelines of the United Nations General Assembly. It also said ASEAN denounces "all acts of destruction, violence, and terror in all its forms."
ASEAN countries – in particular Muslim-dominated Indonesia, Malaysia and Brunei – had been coy about the rise of IS, also known as ISIS and ISIL – and its spread from Syria westward into much of Iraq where it is now threatening Baghdad and laying siege to the Kurdistan region.
Authorities fear up to 200 Indonesians and at least 30 Malaysians have traveled to Syria and Iraq to fight with IS, including women.
Hundreds more, including Cambodians and Australians, have also been reported among the multinational force made up of militias and mercenaries and their presence has raised the prospect that terrorist designs for an Islamic caliphate could be exported back to Southeast Asia.
Among the latest warnings, Malaysian Defense Minister Hishammuddin Hussein raised the prospect of a strike by Islamic State within Southeast Asia and said its influence and the spread of their ideology had to be stopped.
Philippine authorities are on alert for any attempt by IS militants to enter the country after the Abu Sayyaf Group (ASG) in the country's south threatened to kill two Germans it had taken hostage in retaliation for U.S.-led air strikes in Iraq and Syria. ASG, among other regional militant groups – including former Jemaah Islamiyah leaders –  has sworn allegiance to IS.
There have also been threats to kill Pope Francis, leader of the Catholic Church, raising further security concerns for his planned trip to the Philippines in January.
The latest threats came after reports of recently formed Islamic terrorist groups in Malaysia. The country's eastern state of Sabah, and its proximity to the civil wars in the Southern Philippines, has proven to be particularly vulnerable to attacks.
U.S. Secretary of State John Kerry praised the ASEAN ministers for taking a strong stand against IS and for supporting global efforts to counter the network headed by Abu Bakr al-Baghdad.
But within ASEAN old habits do die hard. The vagaries of the 10-nation bloc, and perhaps a desire  by Muslim members Indonesia, Malaysia and Brunei to tread carefully on this subject, resulted in no mention of IS in the statement by name.
Such concerns were highlighted by Malaysian Prime Minister Najib Razak, who blundered during a speech to his political followers three months ago when he appeared to praise IS militants for their tenacity when he said ISIL was capable of defeating a much bigger enemy like the Iraqi army: "Why? Because they are afraid of those who are brave."
His words raised eyebrows in the West and Muslim worlds alike before Najib's office moved to clarify the prime minister's remarks and downplay any interpretations that he was glorifying IS. The latest statement from ASEAN should further clarify the stand being taken by the bloc. The question now is whether ASEAN countries are prepared to commit financially or with boots on the ground?
Luke Hunt can be followed on Twitter @lukeanthonyhunt