China's Overseas Anti-Corruption Efforts Nets 288 Suspects
At APEC and beyond, China is making anti-corruption a key part of its diplomatic efforts.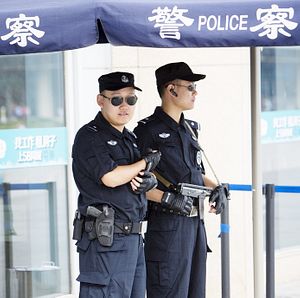 This summer, China launched operation "Fox Hunt" to go after corrupt officials who have fled overseas. On Monday, China's Ministry of Public Security reported on the successes of this program.
As reported by Xinhua, Vice Minister of Public Security Liu Jinguo, who heads the "Fox Hunt 2014" leading small group, provided a number of statistics on the campaign. According to Liu, in the four months since its unveiling, China's "Fox Hunt" has resulted in the arrests of 288 suspects who had fled to 56 different countries, including the U.S., Canada, Spain, South Korea, Japan, Argentina, Nigeria, and South Africa. Of those 288 suspects, 126 surrendered themselves to authorities and 21 had fled overseas more than 10 years ago.
The announcement about "Fox Hunt 2014" is the latest sign that anti-corruption is no longer simply a domestic problem for Beijing. Rather, the fight against corruption has become a key part of China's diplomatic efforts as well, including at the recent APEC summit in Beijing. In the run-up to the APEC Economic Leaders' Meeting, China made it clear that multilateral anti-corruption cooperation efforts would be high on the agenda.
Sure enough, the APEC members signed off on the "Beijing Declaration on Fighting Corruption." The document reaffirmed a "commitment to denying safe haven to those engaged in corruption, including through extradition, mutual legal assistance, and the recovery and return of proceeds of corruption." Leaders also committed to "strengthening information sharing among APEC economies…  concerning cross-border movements of public officials involved in corruption criminal investigations and their illicitly acquired assets."
Most importantly, the Beijing Declaration created a new multilateral body to help smooth cooperation between law enforcement agencies. The APEC Network of Anti-Corruption Authorities and Law Enforcement Agencies (ACT-NET) will be "an informal network for sharing information and exchanging best practices and techniques among anti-corruption and law enforcement authorities in the Asia-Pacific region." China has had some trouble getting cooperation from overseas law enforcement agencies, particularly when it comes to extradition. China hopes to use ACT-NET to smooth the way. Perhaps more crucially, though, China's high-profile emphasis on catching overseas suspects may help nudge foreign governments to seek more ways for cooperation on this issue.
While there have been other, higher profile signs of China's growing bid for global leadership in the past two weeks, the increased prominence of anti-corruption issues is another telling piece of evidence. China's stature gives it the ability to push forward pet issues at multilateral summits, especially when it is playing host. The unique focus on anti-corruption at the APEC summit, including the release of an entire document devoted to joint anti-corruption efforts,showed China's new role as an agenda-setter.
Anti-corruption cooperation was also on the docket at the G20 Summit in Brisbane, Australia. Despite its avowed commitment to cooperation on this issue, China had been accused of seeking to block anti-corruption measures that would increase corporate transparency. Despite this, a pledge to "promote greater transparency" when it comes to corporate ownership and legal arrangements made it into the "2015-16 G20 Anti-Corruption Action Plan", which was endorsed by the G20 leaders in their joint communique. As at the APEC summit, G20 leaders committed to promoting asset recovery, denying safe havens to corrupt officials, and increasing international cooperation "including mutual legal assistance and extradition."
The 288 officials arrested from overseas were all apprehended before the APEC and G20 groupings reaffirmed their commitment to anti-corruption. China is hoping next year, with these measures in place, "Fox Hunt 2015" will be even more successful.