China's 'Most Wanted' Fugitive Nears Deportation From US
The U.S. is close to sending ex-Chinese official Yang Xiuzhu back to China to face trial.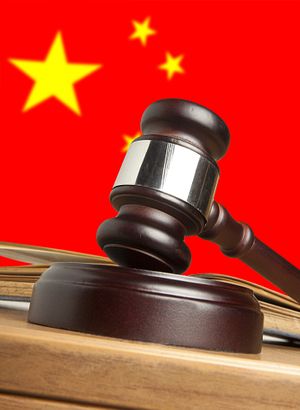 China's "most wanted" economic fugitive appeared in a U.S. immigration court on Tuesday, bringing her one step closer to repatriation and trial in China.
Yang Xiuzhu, the former vice mayor of Wenzhou city in Zhejiang Province, is accused of accepting 253 million RMB ($41 million) in bribes. She fled China in 2003, soon after authorities began investigating her. In May 2014, Yang was detained in the Netherlands, which was preparing to send her back to China. Yang managed to escape and tried to make her way to the United States. She was detained again, this time by U.S. immigration officers, in June 2014, reportedly while trying to enter the U.S. from Canada using a fake passport. Chinese media reports say Chinese law enforcement tipped off U.S. officers about Yang's travel plans.
U.S. Immigration and Customs Enforcement (ICE) has accused Yang of "violating the terms of the Visa Waiver Program" and asked an immigration court to deport her to China. Yang's first deportation hearing took place on Tuesday in New York City.
Hong Lei, spokesperson for China's Foreign Ministry, urged the United States to repatriate Yang "so that she can be subject to legal punishment."
In July 2014, China began a concerted campaign to hunt down and repatriate suspected economic criminals who had fled to other countries. Dubbed "Operation Fox Hunt," the initiative sought to compensate for the fact that China does not have extradition treaties with many of the developed Western nations — including the United States, which is the "top destination for Chinese fugitives," according to a Chinese official.
Earlier this year, as part of its newly-dubbed "Sky Net" campaign, the Chinese government released a list of its top 100 "most wanted" economic fugitives. Of the 100, 36 are suspected to be living in the United States, including Yang, who appears first on the list. That's a problem for China, given that only two economic fugitives have been successfully repatriated from the United States to China in the past ten years.
Yang's case illustrates the difficulties China faces in repatriating fugitives from the United States. The U.S. government is well aware the she is a criminal suspect in China. "As a foreign law enforcement fugitive, Yang is an ICE enforcement priority," an ICE spokesman for the New York Field Office said in a statement. But Yang has reportedly applied for asylum in the United States, a common tactic by those facing extradition to China. Such asylum claims generally say that the subject is facing political persecution or other unjust treatment should he or she be returned to China.
The asylum argument hearkens back to the reason the United States does not have an extradition treaty with China – human rights concerns about due process (including the use of torture to extract confessions and politically-motivated legal cases).  In 2004, the U.S. only agreed to extradite former Chinese bank official Yu Zhendong to China after receiving promises that Yu would not be tortured or executed – and that's after Yu had been convicted of fraud in a U.S. court.
That doesn't mean Yang is guaranteed to win her asylum bid – a similar ploy failed in the Netherlands. But it will make her repatriation a drawn-out legal affair. A Xinhua article spoke of Chinese suspects in the West using "complex regulations on extradition and jurisdiction to their advantage" and called for "more international cooperation" on corruption cases. Xinhua was mostly upbeat, however: "Despite cross-border coordination difficulties, the [possible] deportation from the U.S. of the woman who tops China's 100 most wanted list speaks volumes of the success of international collaboration on eradicating corruption."
Yang is not the only Chinese fugitive facing legal action in the United States. Qiao Jianjun, who comes in at number three on China's most wanted list, entered the United States in 2011 along with his former wife, Zhao Shilian. Zhao has since been detained on charges of lying on her visa application with an intent to launder money. Qiao, though indicted on the same charges, escaped arrest and his whereabouts are unknown.
Qiu Gengmin, another name from China's 100 most wanted list, is facing trial in the United States for money laundering. His lawyer told the New York Times that Qiu is being persecuted by the Chinese government for leading a pro-democracy movement. He is seeking political asylum.
Two other wanted suspects, He Yejun and his wife Huang Hong, both accused of misusing public funds in China, were discovered to be living in Florida after a civil suit accused He (who now goes by the name Chen Wei) of taking $50 million from a joint business venture.