China's Anti-Corruption 'Firefighter' Headed to the US
Wang Qishan is said to be planning a trip to the U.S., presumably to ask Washington to extradite Chinese suspects.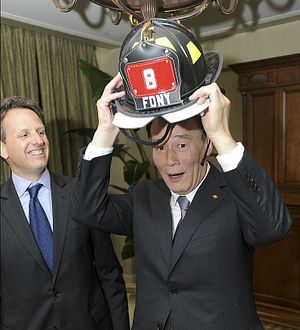 Wang Qishan, the chief of China's anti-corruption agency, is planning a visit to the United States sometime this year, Financial Times reported. It will be Wang's first trip abroad since he assumed his post as the head of the Central Commission for Discipline Inspection (CCDI).
Wang Qishan is an old pro when it comes to diplomacy with the U.S. As China's vice premier, he co-chaired the U.S.-China Strategic and Economic Dialogues from 2009 to 2012. During that time, Wang worked alongside U.S. Treasury Secretary Timothy Geithner on the economic track of the dialogue.
When Xi Jinping and company came to power in late 2012, Wang joined the all-powerful Politburo Standing Committee. He also moved from vice premier to the head of the CCDI, where he was tasked with serving as the point man in Xi's anti-corruption campaign. Wang's clean reputation and personal "firefighting" abilities are seen as crucial for the success of the anti-corruption drive. Now China is banking on his personal diplomatic skills and relationships in Washington to extend the campaign to the U.S.
As China's anti-corruption campaign rolls on, Beijing is focusing on pursuing corrupt officials both at home and abroad. Beginning in July 2014, China unrolled a concerted effort to track down and repatriate corrupt official who had fled overseas — an initiative dubbed "Operation Fox Hunt." According to Chinese media reports, the "Fox Hunt" brought 288 suspects from 56 countries back to China for prosecution last year.
Yet China does not have extradition treaties with many Western nations, due to concerns about China's legal system. As a result, in the early stages of the campaign Beijing was mostly limited to asking officials to turn themselves in in exchange for leniency.
Accordingly, China has turned its attention to seeking increased cooperation with foreign governments, including the United States. Anti-corruption cooperation was one of the focal points at the APEC summit Beijing hosted last November, culminating in the "Beijing Declaration on Fighting Corruption." The APEC members also agreed to start up a new Network of Anti-Corruption Authorities and Law Enforcement Agencies to facilitate information sharing among law enforcement agencies.
China is particularly concerned about getting more help from Washington. Last August, a Chinese official said that the U.S. is the "top destination for Chinese fugitives," with an estimated 150 corrupt officials now living in America. Despite this, China has had little success getting to these suspects – China Daily reports that only two "economic fugitives" have been successfully prosecuted and repatriated to China from the U.S. in the past 10 years.
China wants to change that, and has pushed for meetings specifically to discuss the problem of repatriating corrupt officials (and having their assets returned to China). Reuters reported back in February that such a meeting is set to take place in August, which would give the two sides a chance to reach a breakthrough before Xi's September visit to the U.S. It's unclear if Wang's visit will be associated with those talks or will be part of a separate set of exchanges.
In a Foreign Ministry press conference on Thursday, a reporter mentioned the news that the U.S. has indicted a fugitive Chinese official and his ex-wife on charges of immigration fraud and money laundering. The official in question, Qiao Jianjun, is suspected of bribery and theft in China. When asked about the case, Foreign Ministry spokesperson Hong Lei replied, "As we all can see, China and the US are stepping up cooperation on combating corruption, tracking down fugitives and recovering their criminal assets. "