Does India's New Defense Minister Have a Plan?
India's new defense minister, Manohar Parrikar, has set out an ambitious agenda for India's defense.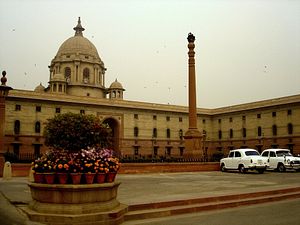 As we covered recently on The Pulse, the Indian government finally appointed a full-time defense minister after having Arun Jaitley split that crucial portfolio with his responsibilities as finance minister. The new defense minister, Manohar Parrikar, is a former chief minister and comes to the Indian defense ministry at a time when the country is looking to modernize its armed forces, build up indigenous weapons research and development programs, and manage increasingly complicated relations with China and Pakistan. During his first week on the job, Parrikar has highlighted a broad set of priorities for his ministry and also made some notable statements about what he views as India's primary defense concerns.
For Parrikar, the primary priority for India's defense ministry over the next three years will be building up the country's capabilities. He told the Indian press in an interview on Wednesday that the country should not overly concern itself with Pakistani or Chinese provocation, but focus instead on fast-tracking defense purchases and investing in arms development. "I have realized that if someone properly heads the defense ministry, then we need not worry about Pakistan and China. We are strong enough…we have to build our capability over the next two-three years," Parrikar told the press. "We need to provide the armed forces the required logistical support. Prime Minister [Modi] has given me the responsibility to provide all the support to defense forces. I am feeling more responsible because the defense deals are worth Rs one lakh crore [$16 billion]," he added.
Parrikar certainly hit all the right rhetorical points as far as India's defense ministry is concerned. His predecessor in the last Congress-led government, A.K. Anthony, was criticized for bureaucratic mismanagement. He even drew criticism from India's then-Army Chief General V.K. Singh. Parrikar's emphasis on streamlining logistics, infrastructure and indigenous development and procurement is a welcome development. Additionally, in light of India's recent move to allow greater foreign direct investment in its defense sector, Parrikar assuaged protectionist fears by stating that "except in case of sophisticated equipment, my endeavor will be to promote Indian companies in procurements." He additionally criticized India's defense deal-making under the Congress-led government, noting that cronyism, lobbying, and vested interests resulted in poor defense outcomes for India.
Parrikar has additionally stated that he will visit India's northeastern border with China soon — an area of considerable interest for the current Bharatiya Janata Party-led National Democratic Alliance (NDA) government. Parrikar notably has played down the role of Chinese incursions across the Line of Actual Control. "Chinese intrusion is not a serious issue. It is a serious issue for media. The incidents of incursions by China are a small issue that is being tackled by the army chief or the concerned commander in that area," he told reporters. "The issue should be considered serious when they set up their camps in our territory," he added, alluding the April 2013 Depsang incident between India and China, and the more recent stand off during Chinese President Xi Jinping's fall 2014 trip to India.
India's new defense minister seems to have struck all the right chords as he starts off managing a bureaucratic machine notoriously resistant to change. As a country with both great power aspirations and a long list of persistent security challenges, India needs a defense ministry that plans, operates, and executes strategically. To do so, Parrikar will have to take risks and inject bold vision into India's defense bureaucracy. Time will tell if he's up to the task.