Indonesia Joins China-Backed Bank
Plus, the Xiangshan Forum and China's struggle to ban tobacco use. Friday China links.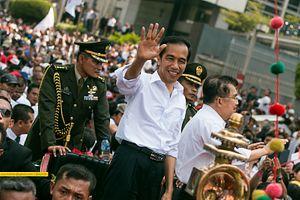 Your end-of-week China links roundup:
Back in early November, new Indonesia President Joko "Jokowi" Widodo told the visiting Chinese foreign minister that Indonesia supported the establishment of the new Asian Infrastructure Investment Bank. Now Indonesia has formally committed to joining the Chinese project. As the New York Times reports, Indonesian Finance Minister Bambang Brodjonegoro, alongside Chinese Ambassador Xie Feng, signed an official memorandum of understanding to join the bank on Tuesday. The inclusion of ASEAN's de facto leader in the AIIB is a coup for China; Indonesia was unable to join earlier as its new administration had not had time to review the proposal.
In other news, China convened a major military forum from November 20-22. The Xiangshan Forum, held for the past five years, was upgraded this year to a "Track 1.5" dialogue, including not only foreign scholars but defense officials. Bonnie Glaser, of the Center for Strategic and International Studies, attended the forum and provided notes for the new Asia Maritime Transparency Initiative. She points out that China may be trying to promote its own alternative to the annual Shangri-La Dialogue in Singapore – especially given the tendency for U.S. officials to criticize China at the Shangri-La Dialogue. "A PLA officer privately admitted that China wanted a gathering with representatives from a broader spectrum of countries who would criticize not only Chinese policies but U.S. policies as well," Glaser writes. In terms of content, Glaser notes the forum stressed Xi Jinping's vision of a "community of shared destiny," including a theme of "Asia for Asians."
In Chinese domestic news, it was a busy week for intriguing legal developments. In addition to new movement on a domestic violence law and death penalty reforms, China is also considering tough new tobacco regulations, including "a ban on all forms of tobacco advertising, sponsorship and promotion of tobacco products," Xinhua reports. The draft law would also ban smoking in indoor public places and certain outdoor spots, including "kindergartens, schools, colleges, women and children's hospitals."
Previous moves to rein in tobacco use in China have fallen flat due to opposition from the powerful tobacco industry. Caixin takes a closer look at China's struggle to curb tobacco use, despite having ratified the World Health Organization's Framework Convention on Tobacco Control in August 2005. In particular, China has been able to pass laws raising taxes on cigarettes, one of the most effective ways of curbing tobacco use, due to steep opposition from industry insiders.