When General Sharif Went to Washington
A visit by Pakistan's army chief underlines the unique and often troubled relationship between Washington and Rawalpindi.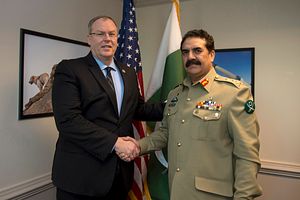 Quick: Identify the civilian democracy that sends its army chief — not its president or prime minister — to the United States for a full week of high-level meetings with civilian and military officials.
The answer is Pakistan, a country that has experienced military rule for half its existence, and where the military remains, bar none, the country's most powerful institution. It plays a key role in politics, lords over a vast economic empire, and enjoys disproportionate shares of the national budget. It is also heavily engaged by Washington, even as the U.S. government has taken admirable steps — including passage of a five-year civilian assistance package — to deepen its relationship with Pakistan's democratically elected government. Rare is the time when a senior U.S. civilian official visits Pakistan and fails to call on a top military leader.
General Raheel Sharif, who is currently wrapping up a week-long trip in Washington, was appointed army chief a year ago — to the surprise of many, given that he was chosen over two more senior candidates. Sharif's previous affiliation was as the Army's inspector general for training. He is not, as newspaper articles repeatedly make clear, related to Prime Minister Nawaz Sharif (however, he reportedly has close ties to one of the premier's chief confidants).
Sharif's arrival in the United States came just days after media reports divulged that Robin Raphel — a senior U.S. diplomat and Pakistan specialist with close ties to Islamabad — is under federal investigation. And it came on the heels of the release of a Pentagon report alleging, not for the first time, that the Pakistani state uses militant proxies (read: the Afghan Taliban and Haqqani Network) to undercut New Delhi's presence in Afghanistan. Of course, such proxies also target U.S. forces and interests in Afghanistan.
Against this delicate backdrop, Raheel Sharif has actually been in Washington during a relatively calm period for the volatile U.S.-Pakistan military relationship. And it's easy to understand why: He has largely been saying what Washington wants to hear, and — to a lesser extent — doing what Washington wants him to do.
Sharif, according to insiders, believes that Islamist militancy poses as much of a threat as does India, the military's long-time obsession. This isn't an earth-shattering revelation; Sharif's predecessor, Ashfaq Parvez Kayani, said the same thing. Sharif, however, has gone further. In his inspector general job, he oversaw the development of new training programs that better prepare soldiers for fighting domestic militants. Now, as army chief, he is overseeing a major countermilitancy offensive in North Waziristan, which U.S. officials have long demanded — and which Kayani refused to undertake. Washington, at least publicly, has waxed ecstatic about this operation. It has chosen not to publicly address indications that the offensive is directed only at militants — such as the Pakistani Taliban and its allies — that target the Pakistani state, and not at militants — such as the Afghan Taliban and Haqqani network — that attack U.S. forces in Afghanistan.
One can assume that Washington is also pleased by the outcome of Sharif's trip to Afghanistan last weekend, which brought pledges from the new Afghan government to crack down on anti-Pakistan militants allegedly using Afghan soil as sanctuaries — a policy shift that Kabul reportedly attributed to Sharif's "clear stance on the war on terror." Kabul is apparently taking at face value recent claims, such as those made by one anonymous Pakistani security official over the weekend, that Pakistan "is treating all militant outfits, including the Haqqani Network, as a threat to peace" (this comment was directly contradicted by Sartaj Aziz, a top adviser to Prime Minister Sharif, who said in a November 18 BBC Urdu interview that Pakistan won't target the Haqqanis). For Washington, which seeks any semblance of stability in Afghanistan, what matters is that the deeply troubled Pakistan-Afghanistan relationship, at least for now, is on the mend.
Still, beyond all this lurks an uncomfortable yet essential truth. For all the goodwill surrounding the army chief's U.S. visit, Sharif heads an institution that — as underscored in the recent Pentagon report — pursues policies at direct odds with U.S. interests. So why has Washington extended a warm welcome to the head of an entity that makes life miserable (and deadly) for U.S. troops in Afghanistan? More broadly, why does Washington continue to engage a country whose policies imperil U.S. interests and lives?
Some will stubbornly (and wrongly) argue that by engaging Pakistan — and by continuing to ply it with ample amounts of military assistance — the country will eventually come around and help the United States achieve its interests.
A more reasonable explanation is that Washington simply hopes that it can get something out of engaging the more moderate elements of Pakistan's security establishment — those less gung-ho about embracing militant proxies and fomenting tensions with India. After all, the military is not a monolith in Pakistan; some elements are more hardline than others.
Recall that this summer, anti-government protestors staged an extended sit-in in Islamabad. Many analysts saw an invisible military hand behind this movement (the reasoning here is that with civil-military relations strained due to policy disagreements about India, militancy, and Musharraf's legal plight, the military welcomed an opportunity to pressure Islamabad by orchestrating the protest). The protest was largely peaceful, except for a brief period when sit-in leaders ordered protestors to advance on Parliament, leading to violent clashes with police. Was this a case of hardline factions within the intelligence services temporarily gaining an upper hand over more cautious colleagues? Perhaps. If so, their efforts failed. General Sharif — given an opportunity to step in amid that brief period of unrest — reportedly refused. And the protest reverted to its prior peaceful state.
This week in Washington, Sharif and his U.S. interlocutors carried on as if the more moderate elements of the security establishment are in control. They played up the achievements of the ongoing North Waziristan operation, and played down the findings in the Pentagon report. They likely applauded their recent shared counterterrorism successes, which range from collaboration on drones to joint IED interdiction. There likely was also much talk of the need for continued cooperation and American military aid, even after most U.S. troops have left Afghanistan.
Unfortunately, it will be difficult to carry on in this way for much longer. With the security establishment becoming increasingly radicalized, the hardliners could soon be even stronger than they are now. Consider how younger yet more ideologically conservative officers are transitioning into more senior-level positions. And witness the rising number of military employees joining militant causes (current and former Pakistani Navy officers abetted al-Qaeda's assault on a Karachi naval base in September).
What this all means for the future of overall U.S.-Pakistan relations is unclear. Some in Washington, especially those on Capitol Hill, believe the military withdrawal from Afghanistan removes incentives for staying close to Pakistan. Others, particularly at the State Department and USAID, believe that Pakistan is strategically significant in its own right and warrants continued engagement.
This week, however, the U.S. position was crystal clear: It wants to make things work with Sharif, his institution, and the country that it dominates. Washington was willing to pull out all the stops — from hosting him for an extended period to presenting him with a Legion of Merit medal, as it did on November 19 — to drive home this point.
Michael Kugelman is the senior associate for South Asia at the Woodrow Wilson Center. He can be reached at [email protected] or on Twitter @michaelkugelman The views expressed here are his own.