US-India Ties to Grow in 2015
Barring any missteps, the U.S. and India should carry positive momentum in their bilateral relations from 2014 into 2015.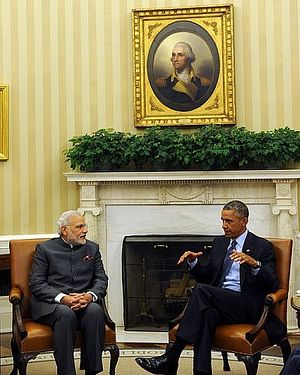 As we head into 2015, U.S.-India relations seem to be on a growth trajectory. After Indian Prime Minister Narendra Modi's largely successful inaugural trip to the United States in September 2014, U.S. President Barack Obama has accepted an invitation to attend India's Republic Day celebrations in late January 2015 as the chief guest. Additionally, the United States Senate is in the process of confirming the Obama administration's nominee for ambassador to India, Richard Rahul Verma. Verma, who is of Indian origin, held the office of the Assistant Secretary of State for Legislative Affairs, has a deep knowledge of India, played a pivotal role in the conclusion of the U.S.-India deal on civil nuclear cooperation in 2005, and has bipartisan support — that last crucial characteristic has left many-an-ambassador nominee sitting in political limbo.
Verma's confirmation hearing took place on Tuesday before the Senate Foreign Relations Committee. Verma seemed to agree with the notion that U.S.-India ties were climbing uphill at a quick pace: "There is no question that this is a defining and exciting time in the US-India relationship. President Obama will make a historic visit to India in January, becoming the first US head of state to attend India's Republic Day and the only sitting US president to visit India twice," Verma told the committee. Indeed, Modi's decision to invite Obama to India was somewhat surprising given India's foreign policy legacy of non-alignment. Many Indian politicians, even within the ruling Bharatiya Janata Party (BJP) government, express skepticism openly toward the United States. As Harsh V. Pant wrote in these pages, Modi's decision demonstrates his "sheer audacity."
During his confirmation hearing, Verma addressed the wide gamut of commonalities between the United States and India: "From expanding trade and defence relationships, to ensuring maritime security and freedom of navigation, from countering terrorist networks to promoting clean energy and sustainable development the US and India share a wide-range of critical national interests. Our partnership is deep, it touches nearly every endeavour of human pursuit, and it has produced important gains for each of our countries," he said. "As Prime Minister Modi noted, the true power and potential in this relationship is that when the oldest and largest democracies come together, the world will benefit," he added.
While U.S. ambassadors to India haven't quite carried the same level of foreign policy gravitas as their counterparts to Beijing, Verma could the one to end that legacy. His predecessor, Nancy Powell, was tasked with dealing with the fallout that came from last December inauspicious crisis involving the arrest of an Indian diplomat in New York City. At the time, it seemed that U.S.-India relations had run into an immeasurable setback. With protests erupting across India against the United States and the cancellation of several high-level U.S. official visits, the situation looked dire. Powell ultimately resigned and retired ahead of India's elections, leaving the ambassadorial post vacant for the better part of 2014.
Verma, if successfully confirmed, would be the first U.S. ambassador to India of Indian origin — something the Indian press and commentators see as a positive sign. The Obama administration employed a similar nomination tactic in China where Gary Locke became the first U.S. ambassador of Chinese origin (with mixed results). Verma will also be somewhat of an outlier in the ambassador job in terms of his professional pedigree. Where generally previous presidents have chosen either State Department veterans or heavyweight appointees in the vein of Powell, Frank Wisner, Thomas Pickering, David Mulford, and Tim Roemer, Verma, 45, comes to the job from the position of Assistant Secretary of State.
What is significant is Verma's bipartisan credibility. Following a Republican sweep in the 2014 mid-term elections, the Obama administration will have a difficult time executing on foreign policy in its final two years. U.S. policy toward India has generally met bipartisan approval. Verma seems to draw praise from across the aisle. After his confirmation hearing, numerous Senate Republicans spoke in favor of him. Republic Senator John McCain expressed confidence that Verma would ""work closely with the new government." He also added that he believed that Verma was "assuming a post at a nation that may be the most important relationship between the U.S. and India certainly in the future. And there are challenges, but I'm very optimistic about the new Prime Minister, many of the reforms that are being made."
"Rich Verma is somebody that's uniquely suited to be our ambassador to India. He is an expert on foreign policy, Southeast Asia. He served as assistant secretary of State for congressional affairs under Secretary Hillary Clinton," added the outgoing Senate Majority Leader Harry Reid, a Democrat. Verma served as a senior adviser to read from 2002 to 2007.
Where a year ago, U.S.-India relations seemed to have reached their lowest point since the United States sanctioned India for its nuclear tests in the late-1990s, a new government and a handful of high-level diplomatic interactions seem to have set things back on track. With a young and dynamic ambassador representing the United States in New Delhi and a presidential visit scheduled for early in the year, 2015 looks like a promising year for growth in U.S.-India ties.