3 Countries Asked to Bid for Largest-Ever Australian Defense Contract
A competitive evaluation process will take 10 months to complete.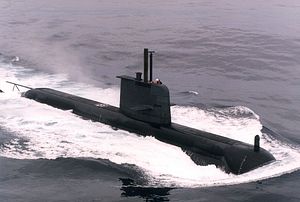 Last Friday, the Australian government has asked Germany, France, and Japan to bid for the country's largest defense procurement program in its history. Three  shipbuilding companies are now vying for a $39 billion contract to build Australia's new submarine fleet in partnership with Australian industry, which is supposed to create around 500 new jobs in the country – mostly in South Australia.
"It's very important that we get the best possible submarines at the best possible price, maximizing Australian involvement in their construction and maintenance," emphasized Australian Prime Minister Tony Abbott in a recent statement.
According to Bloomberg News, Defense Minister Kevin Andrews stated that "All three countries have proven submarine design and build capabilities and are currently producing submarines." The "competitive evaluation process," he further noted will take 10 months to complete. The Swedish company Saab was not invited to bid for the contract, although Swedish Defense Minister, Peter Hultqvist, is still hoping that his country will have an opportunity to deliver an offer. Saab owns Kockums, the Swedish company that designed and built Australia's Collins-class submarines.
Defense Minister Andrew's office released details on the specifics of the bids. These include:
"pre-concept designs" that must meet Australia's capability requirements;
options for designing and building the boats overseas, in Australia, or through a "hybrid approach";
rough costs;
and their position on commercial issues such as intellectual property rights and their willingness to share technical data with Australia.
According to the government, Australia's strategic requirements for the new submarine fleet include:
a range and endurance similar to the current Collins Class submarines;
sensor performance and stealth abilities better than the Collins;
a combat system and heavyweight torpedo developed jointly by the US and Australia as the preferred combat system and armament.
The specific Australian requirements make an "off the shelf" solution not an option. Japan appears to be the frontrunner, with the German company ThyssenKrupp AG (TKMS) the second choice, mostly due to its experience in submarine exports.  France is not seen as a serious contender. All three bidding countries have agreed to build the submarines in Adelaide, the home base of Australian Submarine Corporation (ASC).
John Blaxland, a senior fellow at the Australian National University's Strategic and Defense Studies Centre in Canberra, notes: "Whoever Australia signs with, it will be looking to get more than just good submarines, but also strategic and economic benefits. The stakes are high to get this right. The decision to invite bidders makes sense because Abbott can't just be seen to make a selection, which is what the media said he was about to do. I suspect the Japanese will be interested because it wants to demonstrate it can sell defense technology to another Asian power."
However, as I stated here, the Australian submariner community does not think that Japan will meet Australia's unique requirements and is skeptical of the Soryu-class stealth submarines. For one thing, the much talked about new lithium-ion battery propulsion system is in fact from Sweden and would have to be directly bought from there.