Has Germany Lost the Bid to Build Australia's New Subs?
A German bid is reportedly losing ground over technical concerns.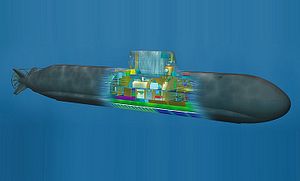 In the competitive bidding process for a $50 billion ($38.8 billion) contract to build Australia's new submarine fleet in partnership with Australian industry, Germany appears to be losing over technical concerns, according to industry sources interviewed by Reuters.
"The German proposal is an enlarged version of a smaller existing submarine, and that technically is risky," one source told Reuters. German defense contractor Thyssen Krupp Marine Systems (TKMS) is offering Australia a scaled-up version of its 2,000-ton diesel-electric Type 214 submarine, equipped with an air-independent propulsion system. As I reported previously, TKMS is offering the 4,000-ton HDW Type 216, specifically designed to meet Australia's needs.
In February 2015, the Australian government asked Germany, France, and Japan to bid for the country's largest defense procurement program (the so-called SEA-1000 acquisition project)—a contract to build up to 12 new submarines for the Australian Royal Navy, replacing the six Collins-class submarines currently in service.
The requirements outlined in the bid including a 4,000-ton displacement, a range and endurance similar to the Collins-class submarines, sensor performance and stealth abilities better than the Collins, and a combat system and heavyweight torpedo developed jointly by the U.S. and Australia as the preferred combat system and armament, makes an off-the-shelf solution not an option.
All three contenders–TKMS, Japan's Mitsubishi Heavy Industries and Kawasaki Heavy Industries, and French defense contractors DCNS –have agreed to build the submarines in Adelaide, the home base of the Australian Submarine Corporation (ASC).
As The Diplomat reported previously, DCNS is offering a 4,000-ton version of the French Navy's Barracuda-class nuclear powered attack submarine, dubbed the Shortfin Barracuda Block 1A.
Japan, with its brand new 4,000-ton Soryu-class stealth submarines outfitted with a new lithium-ion battery propulsion system, appears to still be the frontrunner, however, as I pointed out previously, the submarine may not be the best option for Australia:
 [O]n average Japanese subs are constructed to last for around 19 years, whereas the Australian governments expects at least a 30-year active service life span. The Japanese boats also have much less accommodation space than Collins-class submarines.

Additionally, the much talked about air-independent propulsion (AIP) system is actually Swedish technology. However, the Australian government has so far not shown any interest in AIP, preferring a lithium-ion battery option, which will be built into  the next batch of Soryu-class subs. Nevertheless, advanced lithium-ion batteries are one of Japan's top military secrets and it seems unlikely that Tokyo has agreed to share this sensitive technology with Canberra despite media reports.

The Japanese subs also allegedly have less range than the current Collins-class submarines in service. Furthermore, another concern is the integration of a U.S. combat system and weapons ( Mk 48 Mod 7 CBASS heavyweight torpedoes) into the Japanese hull.
In fact, in November 2014, Australia's Senate Economics Legislation References Committee, rejected the Japanese submarine as an option.
When asked about Germany losing the bid, TKMS Australia Director Jim Duncan told Reuters that "[t]he rumors could well be right. Who knows. My only advice, having spent many years in this environment is: believe nothing that you hear and only half of what you see." Like with most major defense deals, at the end, the decision will be political and only partially influenced by technical considerations.