Burmese Leaders Outed by Global Witness Over Alleged Land Grabs
A new report reveals the extent of land grabbing in Myanmar, especially along the border with China.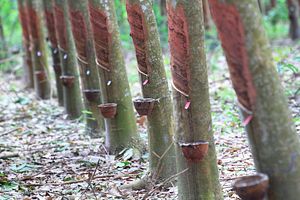 Swapping military uniforms for business suits has been a long-standing symbol of Myanmar's half-hearted attempts at normalizing relations with the rest of the world. The catch was how do the generals find social acceptance while legitimizing their wealth at the same time?
Global Witness has just added further fuel to that debate.
In its latest report Guns Cronies and Crops, the result of an 18-month investigation, Global Witness details allegations that Tatmadaw – Myanmar's military – had systematically grabbed large swathes of land from farming communities since the mid-2000s.
The land was subsequently parceled-out to government-friendly companies and political associates to develop rubber plantations which Global Witness says has marginalized ethnic minorities, particularly in the country's northeast along the Chinese border.
"Following almost 50 years of military rule, Myanmar's politics and economy is supposedly being disentangled from the Tatmadaw's grip," said Josie Cohen, Land Campaigner for Global Witness.
"But in many cases the army has merely swapped its uniforms for suits, with military officials and their cronies retaining firm control of the country's land sector."
She said most of the land confiscations occurred in 2006 under the veneer of a nationwide privatization program when the Burmese generals were transferring public assets and natural resources into private ownership.
This was reportedly done to ensure they retained economic control post-transition – a process that got underway in 2011.
By 2013, 5.3 million acres of land had been leased to investors for commercial agriculture which as in Cambodia was being driven by rising demand from China.
Cohen said more than a quarter of this was now covered by rubber plantations and was having a dire impact in a country where 70 percent of people rely on farmland and forests for their livelihoods.
"As foreign agribusinesses are now poised to invest in Myanmar after decades of trade sanctions, their money risks fueling human rights violations and playing into the hands of the former dictatorship,"  she said.
The report was released as the Myanmar government sets about finalizing a draft of its national land policy and it names names.
Much of the responsibility, it says, lies with Myanmar's Minister of Agriculture and Irrigation, U Myint Hlaing, the country's ruling Union Solidarity and Development Party, and Sein Wut Hmon, a rubber company that collaborated with the junta.
The report found that land confiscations investigated were conducted without the consent of local villagers and "with almost no compensation." It said Sein Wut Hmon had done nothing to develop infrastructure in the area and not a single interviewee from the local villages had been employed on the company's plantations.
Villagers also said they were too scared at the time to resist the confiscations due to fear of retribution amid on-going armed conflict. Since Myanmar's transition, villagers have written to the authorities requesting the return of their land, but not one has received a response.
The report is reminiscent of similar work by Global Witness in Cambodia which unveiled an intricate network of international banks and Vietnamese companies whose vice like grip on land concessions had been extended far beyond their remit.
Cambodia now boasts perhaps a dozen billionaire businessmen abetted by their positions as politicians in the National Assembly. They have shown a reluctance to divulge their true worth.
Further allegations of massive corruption by the chief minister of Sarawak in Malaysia, Taib Mahmud, were made by the London-based watchdog after a hidden video captured the extent of illegal logging and the costs of doing business in the tiny, impoverished state.
His family is reputedly among the richest in the world, worth in excess of $20 billion following his retirement after 33 years at the helm. And that does make one wonder: Exactly how much are the generals of the Burmese Junta, who still control Myanmar, actually worth?
They're not talking either. U Myint Hlaing, and all other groups and individuals named in Guns, Cronies and Crops were not prepared to respond in the report.
However Sein Wut Hmon's owner and director, U Maung Myint, told Global Witness their information was simply hearsay and he rejected suggestions the company had used military connections to acquire land, insisting it had consulted with local people and provided jobs and development.
Luke Hunt can be followed on Twitter @lukeanthonyhunt