China, Kazakhstan Sign $23 Billion in Deals
China expands its economic ties with an important partner for its Silk Road Economic Belt project.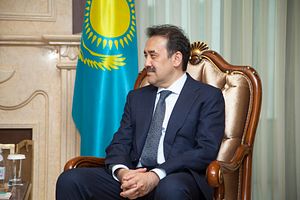 If China and Russia are warring for influence in Kazakhstan, as Arthur Guschin argued in a recent piece, then China just upped the ante. With Kazakh Prime Minister Karim Masimov in China in advance of the Boao Forum, he and Chinese Premier Li Keqiang oversaw the signing of 33 deals worth a whopping $23.6 billion.
According to Xinhua, the deals include projects in the "steel, non-ferrous metals, sheet glass, oil refining, hydropower and automobile" industries. Li praised the deals as a sign of the complementary nature of the Chinese and Kazakh economies.
During his meeting with Masimov, Chinese President Xi Jinping called for the countries to enhance cooperation on the Silk Road Economic Belt, a Chinese initiative to create a vast trade network linked East, Central, and South Asia to the Middle East and Europe. To entice potential partners, China is offering funding for infrastructure development through both the newly-created Asian Infrastructure Investment Bank and the separate Silk Road Fund. Together, those two initiatives will eventually provide $140 billion in funding for infrastructure projects.
Kazakhstan has its own plan for building up infrastructure and jump-starting the economy, dubbed "Bright Road" in a November 2014 speech by President Nursultan Nazarbayev. The new policy is in part driven by the need to decrease economic reliance on Russia, particularly as the Russian economy suffers under Western sanctions.
Xi was quick to point out how complementary the "Bright Road" project is with the Silk Road Economic Belt. Indeed, both projects place a major emphasis on infrastructure development, a sector where Chinese companies are particularly active. Nazarbayev pledged last year that Kazakhstan would fund $3 billion worth of infrastructure projects each year for up to three years.
As the deals signed today indicate, however, China-Kazakhstan economic cooperation is not limited to infrastructure projects. Chinese companies are making a bid to become the driving force in Kazakhstan's industrialization; Beijing is encouraging Chinese firms (particularly those based in neighboring Xinjiang) to invest in Kazakhstan. Meanwhile, Kazakhstan's government also plans to devote $477 million to joint projects with China, particularly the trans-border free trade zone centered on Xinjiang's Khorgos city.
For China, increased economic cooperation with Kazakhstan (and other countries along the Silk Road Economic Belt) is seen as the key to promoting economic development in Xinjiang. Beijing believes increased economic opportunities in its far western province will lead to increased stability in a region frequently rocked by violence. At the same time, China is eager to access natural resources in Kazakhstan and beyond.