Thailand's Rising Crackdown on Dissent Sparks Coup Criticism
The junta is tightening its grip on power.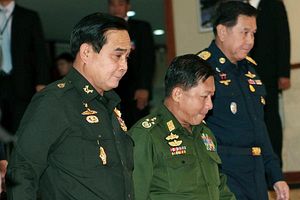 The detention of 14 student activists in Thailand underscores the ruling junta's rising crackdown on dissent and free expression, signaling a deeper descent into strongman-led authoritarian rule. While army commander cum Prime Minister Prayuth Chan-ocha has strongly consolidated his rule after a year in power, his government is nonetheless tightening its grip amid plans to delay elections deep into 2016.
The activists, 11 of them university students, were arrested on June 26 while staging a small, peaceful pro-democracy demonstration in Bangkok. They each face up to seven years in prison on charges of sedition for "inciting unrest" and violating the junta's strict ban on political gatherings of more than five people, according to reports. Their detention has sparked public protests, including the spontaneous posting of anti-coup notes near a Bangkok skytrain station, and strong newspaper editorials criticizing Prayuth's increasingly iron-fisted rule.
Deputy Prime Minister and legal expert Wissanu Krea-ngam was quoted saying the activists should stand trial in a military rather than civil court because they violated a National Council for Peace and Order (NCPO) order. The activists will go before a military court on Tuesday after 12 days in pre-trial detention. The activists' defense lawyers have likened their case to the arrests and military court trial of 18 student activists in October 1976, a flashpoint moment in the country's long struggle for democracy.
The junta's frequent use of military courts to try civilians has come under strong international criticism for their lack of independence and remedy through appeal. Prayuth has so far rejected international calls, including from the United Nations, for the 14 activists' immediate and unconditional release. News reports over the weekend indicated Prayuth had been in communication with military court judges on how to handle the case.
It's not clear why the junta has taken such a hard line. Authorities had earlier gone lightly on outspoken student protestors, who have staged mostly small, symbolic acts of dissent. Last November, five law students from northeastern Khon Kaen University were arrested but quickly released after making anti-coup statements while Prime Minister Prayuth Chan-ocha delivered a speech at a provincial hall. At the time, Prayuth took the dissent in stride, humorously asking the audience "Any more protests? Make it quick."
Other protesting students have been briefly detained for what the junta has characterized as "attitude adjustment", but not charged under harsh security laws that allow for jail terms. Protesting students have, however, been targeted for harassment and surveillance. Reuters reported in March that plainclothes police and military officers had visited the family homes of at least 20 student activists to issue instructions that they steer clear of political activities. Authorities have interrogated at least one of the currently detained activists, questioning how they raised their daughter, according to her defense lawyers.
The 14 detained activists were members of the "New Democracy Group", an incipient anti-junta group that is not apparently linked to either two mainstream political parties, the Democrats and Peua Thai. Thai Public Broadcasting Service revealed in a program that the activists were involved in the anti-amnesty street demonstrations against coup-ousted Prime Minister Yingluck Shinawatra's government. The program also said some have been involved in sporadic anti-coup protests staged in front of Bangkok's Arts and Culture Center, near the place pro-activists and anti-government notes were posted on the weekend.
Political analysts believe authorities will continue to crack down hard on any dissent that could morph into a larger, popular anti-coup movement. Whether the junta's firm handling of the students motivates such a broad-based movement is yet to be seen, though signs of a Bangkok backlash are growing. Supporters of the 14 activists have held candlelight vigils outside of the Bangkok Remand Prison where most of them are being held. They've vowed to continue gathering in front of the jail until all the activists are unconditionally released – or until they are likewise persecuted on the grounds of illegal political assembly.