How Japan Plans to Conquer the Global Arms Market
Tokyo's first arms exhibition in decades illustrates its ambitions to become a global supplier of military hardware.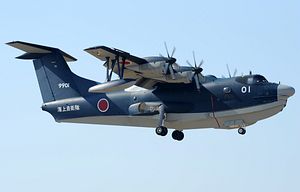 Japan's first arms exhibition since the end of World War II is currently underway in the port city of Yokohama, in close proximity to the U.S. and Japanese naval bases in Yokosuka.
The three-day event (May 13-15), co-organized by the Japanese government and a private British company as well as supported by the U.S. Navy's 7th Fleet Command and the Australian Department of Defense, is meant to promote Japan's advanced arms industry and is particularly focused on maritime security and surveillance, as well as disasters and rescue operations.
Amidst growing regional tensions, the Japanese government lifted a self-imposed weapons export ban last April, although Tokyo cautioned that it will "continue to adhere to the course it has taken to date as a peace-loving country."
The arms fair also coincided with the adaptation of two bills by Prime Minister Shinzo Abe's Cabinet that would ease the deployment of Japan's Self-Defense Forces abroad (see: "Japan's Global SDF Will  Need These Two Laws").
Various international and Japanese defense firms, including Mitsubishi Heavy Industries Ltd. and Kawasaki Heavy Industries Ltd., the country's two largest defense contractors, are exhibiting their products at the event.
Japan's two defense industry giants with their Soryu-class diesel electric submarine are currently the favorites in the race for Australia's biggest-ever arms deal (see: "Will Japanese Subs Be Built in Australia?").
The Japanese defense contractor ShinMaywa Industries Ltd. is also in final talks to export 12 US-2i amphibious search and rescue (SAR) aircraft to India. This is likely to become Japan's first major military export under the new rules.
"Currently the governments of Japan and India are negotiating the issue and if the governments agree, we will be able to export our products," said Susumu Kasai, an official with ShinMaywa Industries Ltd, according to AFP. "This is a great opportunity for us as a small company to promote our name and products," he added.
Although, Indonesia, the U.K., Taiwan, and Vietnam all have expressed interest in Japanese military hardware, the possible sale of Soryu-class subs to Australia and the US-2 amphibious aircraft to India remain Japan's only tangible defense deals on the table so far.
Toru Hotchi, director of the Defense Ministry's Equipment Policy Division and Japan's go-to person for procurement, explained to AP what he thinks to be the reason behind the slow growth of defense exports:
Japan is not up to speed with global trends (…) Japanese companies are not really prepared to compete. They don't know how, because their customer up to now was 100 percent the Defense Ministry, and they've never had to make any marketing effort.
Jack Midgely, an executive officer at Deloitte Tohmatsu Consulting Co., concurred with Hotchi's assessment but added that Japan also lacks technology transfer expertise. "Those skills will have to be built, and they're going to have to build them while they are competing with their ally the U.S. in a defense export market," he said.
To facilitate arms exports, Japan is also planning to set up a new agency modeled after the  U.S. Defense Security Cooperation Agency, the lead agency within the U.S. Department of Defense responsible for arms sales, training, and services to allies, and maintaining military-to-military contacts with allied nations.
However, as the Washington Post  reported in January, Japan's defense industry will be in for  a rough ride  in the global arms export market should it not adapt to the competitive environment:
Officials at the big defense companies have been reluctant to even discuss the prospect of expanding their defense exports, privately shrugging off the opportunity to develop a global market and simply saying they'll do it if the government asks.