India and Japan Continue to Deepen Their Defense Ties
China is driving Asia's second- and third-biggest military spenders closer.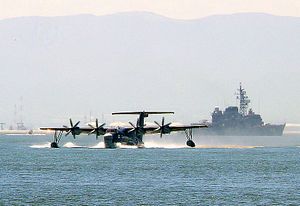 Indian Defense Minister Manohar Parrikar has embarked on a four-day visit to Japan this week. The purpose of Parrikar's visit – his first overseas trip since becoming defense minister in November 2014 – is to strengthen defense ties between India and Japan in the face of China's growing military might in the region.
Parrikar already had meetings with Japanese Prime Minister Shinzo Abe and  his Japanese counterpart Gen Nakatani. Today, he also met with Foreign Minister Fumio Kishida.
According to a press statement by the Indian and Japanese defense ministers, both countries want to make the area of defense equipment and technology a "key pillar of bilateral defense relations."  An Indian press release noted that the Indian defense minister, "welcomed Japan's initiative to strengthen bilateral ties and said that Japan is a privileged partner of India in 'Make in India' including in defence equipment and technology sector."
On the bilateral military diplomacy front, the Japanese defense minister reported that India and Japan "agreed to actively cooperate in ensuring maritime security, which is of common interest." Additionally Nakatani stated, "[i]t is important to deepen defense exchanges to secure order at sea based on the rule of law and not by force."
Furthermore, the defense ministers "reviewed strategic developments relating to international security situation with emphasis on the inter-connected Asia-Pacific and Indian Ocean regions."
Both sides also agreed to continue joint naval drills, such as the India-U.S. Malabar maritime exercises, in which the Japanese Maritime Self-Defense Forces (MSDF) regularly participate.
Prior to his trip, the Indian Defense minister also expressed interest in reviewing the option of purchasing Soryu-class diesel-electric submarines from Japan.
"We are very much interested in Japan's technologies," the minister stated. "We are looking at all kinds of defense cooperation with Japan in all fields," Parrikar further emphasized. As I have noted before, India's submarine fleet is currently in a state of crisis and in urgent need of upgrades and new equipment (See: "India's Submarine Fleet Faces Further Delays").
As part of the visit, India's defense minister is also trying to advance the procurement of 12 ShinMaywa US-2i amphibious search-and-rescue aircraft for the Indian Navy (IN). According to IHS Jane's Weekly Defence, "India plans to acquire two US-2is off the shelf and licence-build the remaining 10 in a $1.65 billion deal likely to be signed sometime in early 2016."
One Indian defense analyst mused over the geo-strategic usefulness of the US-2 for India:
What will culminate into strengthening of military alliance between Japan and India, will also be seen as an answer to China's rise as a threat to regional stability, especially in the Indian Ocean and Pacific Ocean regions. The need for the amphibian aircraft was felt mostly for geo-strategic reasons. It feels that amphibious aircraft could be placed in the Andaman and Nicobar islands which provide the base of India's Tri- Service A&N Command, meant to keep a vigil in the Bay of Bengal. The aircraft would spearhead any littoral warfare operations in the Indian Ocean Region (IOR).