What's Behind China's Djibouti Plans
Plus, South China Sea, China in RIMPAC, and Seymour Hersh. Weekend links.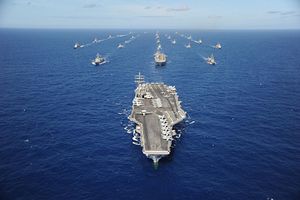 A few defense and security links for your Sunday reading:
Last week, reports emerged, citing the president of Djibouti, that China was in talks with the government there to open a naval base–its first formal overseas military base. In The Diplomat, Rob Edens examines the broader context of China's Djibouti plans, noting its relation to Xi Jinping's "One Belt, One Road" initiative. Kevin Wang notes that China's plans for Djibouti shouldn't be overhyped–the base doesn't mean that China is lining up to challenge the international status quo or the United States. Over at Defense News, Alex Williams from the Center for a New American Security remarks that the Djibouti base is a signal of China's futuer ambitions, noting that "China is becoming more active in international security affairs than at any time in the history of the People's Republic because they have an increasing global interest." Just over a month ago, at RealClearDefense, Robert C. O'Brien had a detailed account of a possible Chinese base opening up in Namibia's Walvis Bay, granting the PLA Navy access to the South Atlantic. The PLAN's westward ambitions may end up being supported off the coasts of Africa.
In the latest podcast, I speak to Shannon Tiezzi, our China editor, and Prashanth Parameswaran, our Southeast Asia editor, about recent developments in the South China Sea, including China's land reclamation activities, the Philippine case against China at the Permanent Court of Arbitration in the Hague, and more. Our debate came briefly before the United States announced that it would consider challenging China's maritime sovereignty claims with the use of naval assets last week. Shannon has a great round-up of the evolving U.S. approach to China, and Dingding Chen offers his observations on a rising "anti-China discourse" in the United States. In a similar vein, there's been a few pieces here at The Diplomat debating whether the United States ought to invite China back to the RIMPAC exercise in 2016. Read my take in favor of not inviting China, Dingding Chen's rebuttal to my argument, and Prashanth Parameswaran's assessment of the costs and benefits of both approaches.
Also, as a bonus, do read this interview between Slate's Isaac Chotiner and Seymour Hersh, author of a controversial and conspiratorial account of the 2011 raid on Osama bin Laden's Abbottabad hideout. The following probably best captures Hersh's approach to the interview (in his own words): "I don't mean to yell at you but I feel good doing it. Goodbye."