Will China Sell Armed Drones to US Ally?
Jordan might be in talks with Chinese officials over the purchase of Beijing's most capable armed UAV.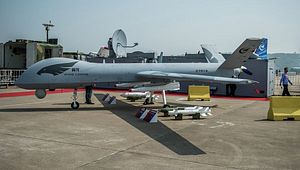 A U.S. Republican lawmaker believes that one of the United States' closest regional allies in its fight against ISIS is interested in purchasing Chinese armed drones.
In a May 14 letter to U.S. President Barack Obama, Representative Duncan Hunter, a Republican from California, noted that he is "now aware that China is presently in Jordan to discuss operations, logistics, and maintenance associated with the urgent sale of weaponized unmanned systems."
According to Defense One, the congressman became privy to the  Chinese offer thanks to "very high-placed sources" in Jordan. Although left unmentioned in the letter, the Chinese UAV in question appears to be the AVIC Wing Loong, aka "Pterodactyl", China's most capable armed drone currently in service and by many analysts considered to be a MQ-1 Predator knockoff.
According to Popular Science, "the 1,100 kg Wing Loong is about the same size as the American MQ-1 Predator and can fly for over 4,000 kilometers in 20 hours. Its 200 kg payload of armaments and sensors includes two laser guided KD-10 ground to air missiles (similar to the Predator's Hellfire Missiles) or two 50 kg LS-6 satellite guided bombs."
Saudi Arabia and the United Arab Emirates (UAE) are said to have purchased the domestically-made Chinese UAV already; however, UAE officials allegedly complained that the first batch of Wing Loong drones delivered had heating problems in the desert climate.
Congressman Hunter is determined not see another U.S. ally purchase Chinese military hardware. "Allowing Jordan to obtain Chinese assets — simply due to delays in U.S. considerations and process — is a serious mistake. Not only will a new market exist for China to export its technology, any incorporation of Chinese assets will directly harm U.S. interoperability," he writes.
Consequently, the Republican wants the White House to give "serious consideration to allowing Jordan to immediately utilize existing MQ-1  [Predator UAV] or alternate assets as their requests for specific military assistance are further weighed. I am confident that we can curtail Jordan's interest in Chinese assets by taking immediate action."
However, the White House has so far denied General Atomics — the U.S. defense contractor building the MQ-1 UAV — the license to sell its Predator drone to Jordan, despite the recent loosening of export restrictions (see: "US Authorizes Sale of Armed Drones").
Hunter already proposed the sale of MQ-1 drones to Jordan a few months back but it appears that his proposal has not been picked up yet by administration officials. Defense One reports that General Atomics is also Hunter's largest campaign contributor.