China Wants Its Civilian Ships to Be Ready for War
Plus, Aung San Suu Kyi in China, Hong Kong's moment of truth, and what China thinks about FIFA. Friday China links.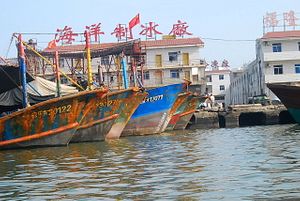 A meeting held in Shanghai in early June, just covered by China Military Online, brought together Chinese military officials and civilian shipping companies. The purpose: for Chinese officials to train civilians on the "Technical Standards for New Civilian Ships to Implement National Defense Requirements." In essence, the Technical Standards stipulate performance and design requirements for newly-built civilian ships so that they will "meet national defense requirements." The Technical Standards, passed in March to little fanfare, are part of China's strategy for incorporating civilian vessels into military operations. In the words of China Military Online:
The implementation of this military standards for civilian ships makes it possible for China to turn the great potential of its civilian ships quickly into military strength for national defense and will considerably enhance the PLA's strategic projection capability and maritime support capability. [sic]
The Technical Standards are designed to make sure civilian ships are ready in times of crisis, should the PLAN need to press them into service. But as Andrew Erickson and Conor Kennedy reported previously for the Wall Street Journal, China already has a thriving maritime militia that uses civilian vessels (mostly fishing vessels) "as Beijing's first line of surveillance, support and pressure in promoting the country's claims and interests in East and South China seas."
In other news, Chinese President Xi Jinping met with Myanmar's opposition leader and democracy activist Aung San Suu Kyi on Thursday, Xinhua reported. It's Suu Kyi's first visit to China, and comes as her National League for Democracy (NLD) is favored in this year's general elections. Xi's comment made it clear why Suu Kyi was invited – China wants to ensure that its relationship with Myanmar continues regardless of who is in power. "We hope and believe that the Myanmar side will also maintain a consistent stance on China-Myanmar relationship and be committed to advancing friendly ties, no matter how its domestic situation changes," Xi said. Xi also urged Suu Kyi and the NLD to guide public opinion toward China-Myanmar relations "in an unbiased and rational way."
Meanwhile, a high-ranking member of the ruling Liberal Democratic Party in Japan is optimistic that Prime Minister Shinzo Abe's statement on the 70th anniversary of the end of World War II will be good for China-Japan relations. "We have been building something and no one expects a statement that will destroy it," Toshihiro Nikai, chairman of the LDP's general council, told Bloomberg, referencing hard-won gains in China-Japan ties. He added, "Prime Minister Abe bears great responsibility. We think he will release an admirable statement." I covered the latest sign of thawing China-Japan relations – the restarted finance dialogue – earlier this week.
Reuters reports that Chinese officials are increasingly confident that the controversial electoral reform package will make it through Hong Kong's legislature. Passage of the bill requires a two-thirds majority, which means the Hong Kong government will have to persuade at least four pan-democrats to break ranks and vote in favor of the bill. Sources told Reuters "intense backroom lobbying" was paying off, a claim pan-democrats dismissed as a bluff. Debate in the legislature will begin June 17. Douglas Paal of the Carnegie Endowment has an overview of Hong Kong's electoral reform debate – how the situation got to where it is today, and what it means for Hong Kong, China, and the United States.
In China-Africa related news, Angolan President Jose Eduardo dos Santos was in Beijing this week to meet with Chinese leaders. Reuters reports on the visit, saying that Dos Santos' main purpose was "to seek financing for projects … intended to revive an economy hit by low crude prices." Angola, a major source of oil imports for China, is already the largest recipient of Chinese foreign direct investment in Africa. The biggest project on the table this time is a $4.5 billion hydropower plant slated to be constructed by China Gezhouba.
Finally, for all those football fans who have been following the FIFA scandal, Chinese state media finally weighed in this week. A commentary in Xinhua largely follows the Russian media line (including quoting Russian officials) that the United States has overstepped its authority by prosecuting FIFA executives. The episode "has not only exposed Uncle Sam's arrogance as "world police," but also set a bad precedent for international relations," Xinhua argues.