Will All Roads in Central Asia Eventually Lead to China?
Increased Chinese involvement in the region is a source of both fascination and fear.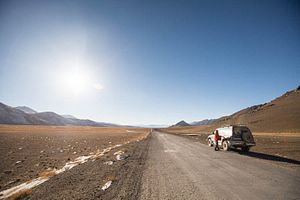 In 2000, China's trade with Central Asia was about $1 billion. By 2013, when Chinese President Xi Jinping unveiled the Silk Road Economic Belt initiative while in Kazakhstan, trade had ballooned to $50 billion. China's insatiable need for raw materials and natural resources has fueled its push into the region that locals view with both fascination and fear.
A recent roundtable arranged by RFE/RL picked through the methods and reasons for China's engagement in Central Asia. The director of RFE/RL's Turkmen service, Muhammad Tahir moderated the discussion. He was joined by Reid Standish of Foreign Policy, Bruce Pannier, of RFE/RL, Galym Bokash of RFE/RL's Kazakh Service, and RFE/RL intern Bradley Jardine, a graduate student at Glasgow University.
Most importantly, the panelists discussed the complexities of how growing Chinese involvement is viewed domestically and what Russian and Chinese competition may mean for the region.
The what, how, and why of Chinese engagement in Central Asia is relatively simple: basic economics. China's thirst for resources has not reached a ceiling and Central Asia has plenty to spare. Pannier sums up what China gets from Central Asia excellently:
China imports oil from Kazakhstan; natural gas from Turkmenistan, Kazakhstan, and Uzbekistan; uranium from Kazakhstan; operates gold mines in Kyrgyzstan and Tajikistan; and is searching for rare earths in Tajikistan. Much of the infrastructure projects Beijing has financed in Central Asia — the roads, railways, and pipelines — lead back to China.
One problem with Chinese investment is that it is very much focused on "hardware" rather than "software." Speaking at the U.S.-China Economic and Security Review Commission in March, Central Asia scholar Alexander Cooley said that:
The current assumption of Chinese leaders is that better "hardware," in the form of modern infrastructure, will spur economic development and improve market-oriented practices. But the region is challenged as much by its poor "software"- particularly corruption and rent-seeking– at all levels of government. We should not underestimate the extent of these governance challenges, for Central Asia today remains one of the trade-unfriendly regions in the world.
China's singular focus on economics, ignoring domestic issue and governance, is a boon to Central Asian regimes tired of being lectured by the West on human rights, in particular. But while Chinese investment may make the state rich and happy, Central Asians view the Chinese with more skepticism.
In Kyrgyzstan, for example, Chinese companies operating mines have run into local resistance. Although contracts usually stipulate that Chinese firms must hire locally, Kyrgyz workers complain they are not paid as much as Chinese workers. On a small scale, it has been reported a number of times that Chinese merchants–with goods subsidized by the Chinese government–move into bazaars, undersell Kyrgyz merchants, and drive them out of business.
Pannier says that for those already wary of Chinese influence, this "just reinforces the feeling that they're dealing with not just a big brother, but potentially a big bully."
In Kazakhstan, Standish commented, it depends on who you ask whether China or Russia causes more worry.
"In the last year there's been a lot of suspicion of Russia's actions, especially in Ukraine," Standish said. Comments from Russian President Vladimir Putin that before Nazarbayev Kazakhstan had not been a state caused a significant amount of worry in the country. But, Standish continued, "there still is a general paranoia of the Chinese in Central Asia as a whole, but especially in Kazakhstan."
Bokash noted that Kazakh migration policies restrict deeper penetration by most Chinese businesses, but he joked that "you can see CNPC signs in almost every oblast of Kazakhstan." Bokash said that domestically there are mixed feelings regarding China, "fascination and fear."
So, will all roads lead to China some day? Probably not. While Russia is as suspicious of Chinese investment in the region as the Central Asian countries are at times, Russia needs China too. The region is big enough for both, for the time being. Chinese investment may build many roads over the coming years, but Russia's history with the region won't be paved over.