Both Koreas Invited to Beijing For World War II Anniversary
Will both Koreas send ceremonial units to China's parade commemorating the 70th anniversary of World War II's end?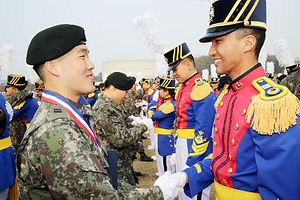 The Chinese government may have invited the militaries of both South and North Korea to participate in a Chinese military parade toward the end of September to mark the seventieth anniversary of the end of the Second World War in Asia. South Korea's Yonhap News noted that a South Korean diplomatic source with knowledge of the matter notes that the parade is scheduled on September 3. Additionally, China has invited North Korea's Kim Jong-un to visit Beijing for the commemoration of the seventieth anniversary of the war.
This will be the first time that foreign militaries are invited to participate in the Chinese parade. Though the participation of the Korean militaries remains uncertain, it is highly likely that Russia will send troops. Chinese President Xi Jinping went to Moscow in May at Russian President Vladimir Putin's invitation to commemorate the war's anniversary in Russia. Though North Korea's Kim Jong-un was originally expected in Moscow—the trip would have been his first abroad in an official capacity since he took the reins in North Korea—he did not end up going.
"To my knowledge, China has sent invitations to the militaries of South and North Korea to take part in the military parade," Yonhap's source noted, adding that South Korea was "carefully weighing" the Chinese invitation. The Chinese parade will have particular sensitivity given that the September anniversary of the war marks Imperial Japan's surrender. Currently, relations between China and Japan remain cold (though they have improved slightly in recent months). South Korea, meanwhile, marked the 50th anniversary of the normalization of its diplomatic relations with Japan just over a week ago. Japanese Prime Minister Shinzo Abe is widely expected to apologize for Japan's wartime actions and express remorse over how Imperial Japan treated its Northeast Asian neighbors. Abe is not excluded from the ceremony in Beijing—he received his invite months ago, but has not chosen whether to accept it or not.
According to the South Korean government source, China has requested that South Korea send an honor guard to the parade. The inclusion of the ceremonial South Korean units alongside their North Korean counterparts, while undoubtedly a powerful symbolic gesture at a parade commemorating the anniversary of the war, is highly unlikely to happen. North Korea, while still very much militarized, has grown more insular over the past year as Kim Jong-un continues to consolidate power. Additionally, relations between Pyongyang and Beijing have shown little sign of improvement. North Korea's diplomatic opacity, of course, makes it difficult to predict if Kim will chose to make his first trip abroad at this time and meet with Xi, the leader of North Korea's historic benefactor and closest partner, regionally and globally.
So far, China has received no reply from North Korea on Kim's participation, and the issue of military participation remains similarly uncertain. What's clear is that events in Northeast Asia surrounding the commemoration of the Second World War's seventieth anniversary will be fraught with historic symbolism and weight.