US Official Calls for Permanent Expansion of Malabar Exercises With India
The move would be a 'tangible demonstration' of regional maritime security cooperation.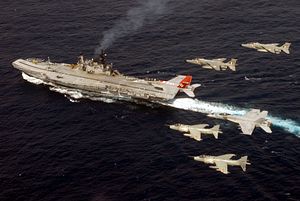 The United States and India should consider permanently expanding their annual naval exercise to include other like-minded partners as part of their joint cooperation in the Asia-Pacific, a U.S. defense official said earlier this week.
Exercise MALABAR, which initially began as a bilateral naval exercise between the United States and India back in 1992, has at times been expanded to include other partners as well. The 2007 iteration included Japan, Australia, and Singapore, while Tokyo also participated in 2009 and 2014. This year, Japan has been included but Australia has reportedly been left out (See: "Japan to Join US, India in Military Exercises This Year").
But Robert Scher, the assistant secretary of defense for the Office of Strategy, Plans and Capabilities, told an audience at a Washington, D.C.-based think tank on July 13 that the United States and India should consider permanently expanding the exercise to include these partners instead of doing so on an ad hoc basis. Scher said that expanding the exercise would be one tangible demonstration of Washington and New Delhi working together on maritime security in the Indian Ocean.
"Why can't we look at regularizing multilateral Malabar all the time? We've done it occasionally and then we kind of fall back and then we go forward a little more," Scher, who also previously served as deputy assistant secretary for South and Southeast Asia at the Pentagon, said during a panel discussion at the Carnegie Endowment for International Peace.
Vikram Singh, who succeeded Scher as the deputy assistant secretary of defense for South and Southeast Asia, agreed that it was frustrating that other partners like Japan and Australia were not able to be integrated into the exercises on a permanent basis. That, he said, would be Washington's ideal choice.
"Yes, Malabar is very frustrating because… we wanted to have Japan, Australia [included] all the time because we see value in that," Singh, who now serves as vice-president for national security and international policy at the Center for American Progress, said.
U.S. officials, including Vice-President Joseph Biden at the same event, have welcomed the expansion of the exercises and signaled that much more could be done in the U.S.-India defense relationship (See: "US Will Hold Elevated Trilateral Dialogue With India and Japan"). But the challenges to any permanent expansion of the exercise have long been well-known. Most importantly, as Singh himself noted, New Delhi has been worried about the political sensitivities that may result from including certain additional participants. As I have pointed out before, in 2007, India's involvement in the informal 'quadrilateral security dialogue' with Japan, Australia and the United States – with all four participating in that year's iteration of the exercises – provoked a strong backlash from Beijing due to fears of encirclement (See: "India, Australia, Japan Hold First Ever Trilateral Dialogue").
Still, Singh said that the exercise is currently still quite robust, a sign of a broader progress in the bilateral defense relationship more generally (See: "What's Next for US-India Defense Ties with Obama's Trip?"). Over more than two decades, he noted, MALABAR has become a multi-dimensional and complex exercise, and U.S. personnel have been largely quite happy with the ongoing cooperation that happens with India annually.
"This is no joke. This is a serious exercise now," Singh said.