The Malabar Exercise: An Emerging Platform for Indo-Pacific Cooperation?
In 20 years, Malabar has gone from a US-India drill to a platform for wider regional collaboration. But will this last?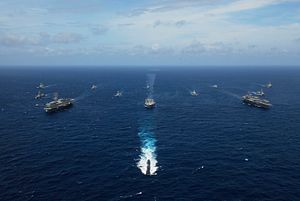 On June 7, the United States, India, and Japan began the twentieth iteration of the Malabar Exercise. In the two decades of its existence, the exercise, which began as a joint U.S.-India naval drill back in 1992, has evolved into not just a key aspect of U.S.-India defense ties, but a key platform for engagement in the Indo-Pacific more broadly.
First and foremost, the Malabar exercise is testament to the strength and significance of the U.S.-India bilateral relationship. Though there was a temporary suspension of the exercise during U.S.-India tensions back in the 1990s for a few years – practitioners from both sides routinely emphasize today that over the years Malabar has become a robust military exercise that is multi-dimensional and complex in nature.
But today, the conversation around Malabar has gone from it being a key part of U.S.-India engagement to a broader platform for Indo-Pacific defense cooperation. Much like the path taken the Cobra Gold exercises – which began as a U.S.-Thailand engagement but is now Asia's largest multinational drill – Malabar has begun to multilateralize to include other American partners in the region.
The initial impetus for this arose during the George W. Bush years, when the 2007 iteration of the exercises included Japan, Australia, and Singapore – two key U.S. treaty allies and one longtime strategic partner (Japan subsequently participated in 2009 and 2014 as well). But the momentum towards this has increased noticeably in recent years, with Japan included as a permanent member last year and calls for Australia to follow suit as well (See: "US Official Calls for Permanent Expansion of Malabar Exercises with India").
At the broadest level, the multilateralization of the exercise has been read as part of a growing convergence between the United States, India and other actors like Japan and Australia which are each strengthening their security presence in the Asia-Pacific and all devoted to the preservation of the so-called rules-based order. China's assertive actions in the East and South China Sea have obviously played a catalyzing role in this convergence, which has manifested itself in growing trilateral and even quadrilateral cooperation within what U.S. Defense Secretary Ash Carter recently called a principled security network at this year's Shangri-La Dialogue (See: "US Hits Right Note at Shangri-La With Principled Security Network").
The holding of the first ever U.S.-India-Japan trilateral ministerial meeting last September exemplifies this growing convergence. While the three countries had been meeting at the assistant secretary level over the past few years, the meeting between their foreign ministers on the sidelines of the United Nations General Assembly in New York – a move mulled since 2011 – represented an official elevation of the trilateral dialogue. As I noted in a piece following that meeting, the move was testament to the growing role that all three democracies – which represent a quarter of the world's population and economic production power – have played individually in the Indo-Pacific region as well as the convergence between them (See: "Why the New US Trilateral Dialogue with India and Japan Matters").
But beyond strategic convergence, the multilateralization of Malabar also has implications for defense ties between concerned countries and other regional actors more specifically. Exercises are important in building the foundation for greater military ties in various ways, including fostering interoperability and building personal relationships between officials and officers. This is particularly true of more complex drills like Malabar, which this year includes exchanges on various topics including carrier strike group operations, maritime patrol and reconnaissance operations, surface and anti-submarine warfare, as well as search and rescue.
The maritime focus of the exercises is also in line with both their individual priorities as well as the region's ongoing security challenges which they hope to tackle among themselves and in concert with others. Though the media attention is often focused on China's actions in the East and South China Seas, in reality there are other threats in the maritime domain which closer defense ties can help address. For example, Washington, Tokyo and New Delhi made humanitarian assistance and disaster relief a key focus of trilateral cooperation at their dialogue last year, agreeing to convene an experts-level group to enhance capabilities to respond jointly to complex disasters.
In the longer term, with the permanent participation of Australia and perhaps the involvement of others as well, more bullish defense officials and experts say Malabar could eventually be viewed as not just a platform within which this growing strategic convergence and deeper defense cooperation are realized, but drills where participants even practice operating some common or integrated capabilities to specific ends. Though getting there will by no means be easy, the promising signs are there for those looking to them, be it Japan's lifting of its decades-long weapon exports ban or growing U.S.-India cooperation on defense trade and technology.
While Malabar's evolution over the past two decades has been promising, challenges to sustaining or building on its progress still remain. As was evidenced by the short-lived quadrilateral defense dialogue or 'quad' under the Bush administration, strategic convergences may evolve over time owing to changes in leadership transitions or threat perceptions. Furthermore, in order to get to the more ambitious vision of operating common or integrated capabilities, that will require some bold steps including political risks by leaders and deep cultural changes within defense establishments. That is far from easy, as the recent case of Japan's failed Australian submarine bid demonstrated (See: "Australia-Japan Defense Ties Are Deeper Than A Sunken Submarine Bid"). Lastly, as Malabar expands, the growing number of participants will make other traditional challenges with such exercises like coordination even more complex.
But the very fact that the conversation around Malabar has shifted from a bilateral one in the 1990s to a multilateral one today is testament to its potential as a key platform for engagement in the Indo-Pacific. That itself is a significant achievement for its twenty years of existence that is worth acknowledging.