Australia, India to Hold First Ever Naval Exercise Amid China Concerns
AUSINDEX will be a boost for the growing bilateral defense relationship.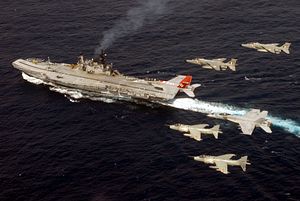 Next month, the Indian Navy and Royal Australian Navy will hold their first-ever joint maritime exercise.
The exercise, called AUSINDEX, will he held off India's Visakhapatnam Port in the Bay of Bengal in mid-September. According to defense sources, Australia is sending Lockheed Martin's P-3 anti-submarine reconnaissance aircraft, a Collins-class submarine, a tanker, and frigates, while India will deploy assets including Boeing's P-8 long-range anti-submarine aircraft and a locally manufactured corvette. The exercise will have both sea and shore phases and include table-top exercises, scenario planning, and at sea, surface and anti-submarine warfare.
Unsurprisingly, the media attention has focused on the exercise narrowly as a response to rising concerns about China. For instance, the anti-submarine warfare focus of the exercise – which includes exercises to protect a tanker from a hostile attack submarine – is said to serve as a counter to China's deployment of a nuclear-powered submarines in the Indian Ocean.
The potential for increased maritime tensions amid rising competition in the Indian Ocean is real. Commenting on this, Captain Sheldon Williams, a defense adviser at the Australian High Commission in New Delhi, admitted that there is "potential for increased security tensions in the Indian Ocean."
"We sit right in the confluence of the Indian and Pacific Oceans. We have a significant responsibility for its security. That's how we're looking at it now," Williams added.
But AUSINDEX should also be seen more broadly as one sign of growing defense ties between Australia and India. While Canberra and New Delhi have participated in multilateral exercises before, including Malabar exercises in 2007 and Milan exercises in 2012, AUSINDEX is the first bilateral maritime exercise between the two nations.
Australia's defense minister, Kevin Andrews, is also in India for a series of high-level meetings this week in a boost for the relationship. This is the first meeting between the two countries' defense ministers since the release of a new framework for security cooperation inked by Prime Minister Narendra Modi and his Australian counterpart following the former's visit to Australia in November 2014. Regarding his visit to India, Andrews said that he looked forward to "identifying a range of new ideas to increase our existing defense cooperation."
Speaking more specifically about AUSINDEX, Andrews described it as "a strong signal of both countries' commitment to building defense relations."
AUSINDEX will be followed by Exercise MALABAR in October, which originally began as a U.S.-India bilateral exercise back in 1992. As I have written before, Malabar has been at the center of an ongoing conversation about expanding arrangements in the Asia-Pacific, amid growing trilateral cooperation of various sorts including between India, Australia, and Japan (See: "India, Japan and Australia: A Trilateral in the Making?"). Japan is expected to join the Malabar exercises later this year, in line with the occasional broadening of the drills to include other nations ("Japan to Join, US, India in Military Exercises This Year"). Some have also been pushing for a permanent expansion of the exercises to include Australia and Japan (See: "US Official Calls for Permanent Expansion of Malabar Exercises with India").