Japan to Join US, India in Military Exercises this Year
Australia, however, will reportedly be left out.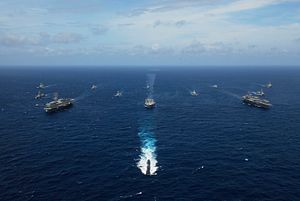 On June 30, The Indian Express reported that Japan would be participating in this year's Exercise MALABAR, which initially began as a bilateral naval exercise between the United States and India back in 1992.
The report cited unnamed sources as saying that this was confirmed at the seventh U.S.-India-Japan trilateral dialogue held in Honolulu last Friday.
If so, that would be a significant though not entirely surprising development. Although Japan has participated previously in three iterations of the exercises – in 2007, 2009 and 2014 – media reports had earlier indicated that its involvement this year was not confirmed. New Delhi has previously been anxious about how China would react to efforts to expand the bilateral exercises. When the 2007 edition of the exercises in the Bay of Bengal were expanded to include Japan and Australia, Beijing lashed out at what looked like the so-called quadrilateral security dialogue or 'quad' between the United States, Australia, Japan and India operating at sea. As such, while India had included Japan in the 2009 and 2014 exercises held in the north-western Pacific, it was unclear whether Tokyo would be invited to the 2015 version back in the Bay of Bengal as well. But if the report about the confirmation is to be believed, the issue of Japan's involvement this year is now resolved.
That is not altogether surprising. U.S., Indian and Japanese officials have all been sending signals over the past few months that they want this to occur. The Tokyo Declaration for India-Japan Special Strategic and Global Partnership issued last September during Indian Prime Minister Narendra Modi's visit to Tokyo noted that both sides had attached importance to Japan's "continued participation" in the Malabar exercises. The U.S.-India Joint Statement released following U.S. President Barack Obama's visit to India in January reiterated both countries' commitment to "upgrading" them. And at the India-Japan-Australia trilateral talks earlier this month, Japanese vice-minister for foreign affairs Akitaka Saiki said that Japan was "keen to be participating regularly" (See: "India, Japan and Australia: A Trilateral in the Making?").
While Japan's involvement in one iteration of one exercise may seem trivial, it is not. U.S.-India-Japan trilateral cooperation requires a number of initiatives to build on, and the Malabar Exercises is a logical place to start. All three countries have already been involved in them previously, and the maritime focus of the exercises is also in line with both their individual priorities as well as the region's ongoing challenges which they hope to address (See, for instance: "US, Japan Joint Patrols in the South China Sea?"). More specifically, exercises are also important in building the foundation for greater military ties in various ways, including fostering interoperability as well as personal relationships between officials and officers. Boosting collaboration amongst the three nations could also then pave the way for broadening cooperation with other Southeast Asian states as well, as U.S. officials have previously stated (See: "US Eyes Expanded Naval Exercises with ASEAN Navies").
The report also noted that Australia would not be involved this year. Unlike Japan, which has participated three times, Australia has only been part of the exercises once back in 2007. That will nonetheless be a disappointment for those who had hoped for advancements in the India-Japan-Australia trilateral relations, or perhaps even the revival of the quadrilateral or 'quad' under the George W. Bush years.
However, the inroads Australia has made in its relationships with the United States, Japan and India recently suggests that the big picture looks promising. Besides, beyond the Malabar Exercises, India's defense relationship with Australia is on the uptick. Last year, Modi and his Australian counterpart Tony Abbott agreed a new Framework for Security Cooperation that included maritime security cooperation and "regular maritime exercises." The two countries are set to hold their first ever IN-RAN bilateral naval exercise later this year from October 30 to November 4.