23 Executives, Government Officials Under Investigation for Role in Tianjin Explosions
The suspects range from executives of the company at the center of the blasts to customs and transportation officials.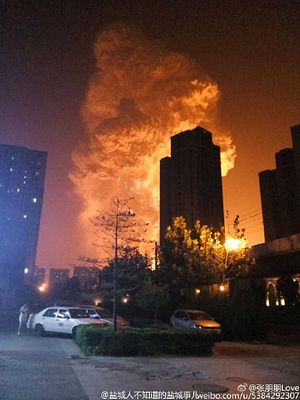 Two weeks after massive explosions erupted at a chemical warehouse in Tianjin, China's Ministry of Public Security announced that 12 people have been arrested for their role in the blasts. As of Thursday, the death toll from the August 12 explosions had climbed to 145, with 28 still missing. That includes 104 dead or missing firefighters.
According to Xinhua, those arrested included executives from Tianjin International Ruihai Logistics Co. Ltd., the company that operated the chemical warehouse. The company's chairman Yu Xuewei, vice chairman Dong Shexuan, and three deputy general managers were all arrested, Xinhua reported. Ruihai's general manager and deputy manager are also under house arrest.
Xinhua had previously reported that company executives admitted to using political connections to circumvent basic safety regulations, especially the rule that storage facilities for hazardous materials must be at least 1,000 meters away from public buildings. Ruihai's warehouse was less than 600 meters from the nearest residential building.
One of the 12 people reported to be under arrest, Zeng Fanqiang, worked not for Ruihai but for a safety evaluation company. He is accused of helping Ruihai illegally attain the necessary safety inspection documents.
In addition to the 12 suspects who have already been arrested, Chinese authorities are also investigating 11 officials and port executives for negligence in connection with the explosion. That includes Wu Dai, head of Tianjin Municipal Transportation Commission, Zheng Qingyue, the president of Tianjin Port (Group) Co., Ltd., and Wang Jinwen, a deputy inspector at the Ministry of Transport.
The Supreme People's Procuratorate (SPP), China's top state prosecution office, said its investigation had found that Wang broke the law to help Tianjin Ruihai International Logistics Co. pass safety inspections.
Unnamed employees of Tianjin's customs agency were found to have been "slack and irresponsible in supervising the illegal dangerous chemical business run by Ruihai," the SPP said. It also accused customs personnel of "illegally issuing customs clearing permits" to Ruihai.
The SPP said a wide range of local government departments "including transportation management authorities, production safety regulatory agencies, and land and resources authorities, are accountable for the explosions."
The 11 officials under investigation "have been placed under compulsive measures, which include summons by force, bail, residential surveillance, detention and arrest," Xinhua reported.
China also recently announced an investigation into Yang Donliang, the director of the State Administration of Work Safety. Yang was accused of "severe violations of discipline and law." Yang previously served as a vice mayor in Tianjin.
The investigations and arrests make it clear that Chinese authorities are looking to set an example after the Tianjin blast. Not only company executives but government officials are being held accountable for the disaster, presumably in accordance with the State Council's demand for a "rigorous and thorough investigation" into the cause of the explosions.
In the aftermath of the explosion, Chinese media reports hinted at the nexus of corruption and negligence that had led to the accident, leading China's State Council to promise to "launch a nationwide inspection of businesses engaged in dangerous chemicals and explosives."