After months of anticipation, China has released the guest list for its September 3 military parade, the highlight of a series of events commemorating the 70th anniversary of Japan's surrender and the end of World War II. Vice Minister Zhang Ming of China's Foreign Ministry revealed the list at a press conference on August 25.
There will be 30 heads of state at the parade, Zhang said, including Russian President Vladimir Putin, South Korea President Park Geun-hye, Pakistan's President Mamnoon Hussain, Myanmar's President Thein Sein, and Vietnamese President Truong Tan Sang. China's guests will also include the heads of state of each member of the Shanghai Cooperation Organization (Russia, Kazakhstan, Kyrgyzstan, Tajikistan, and Uzbekistan, in addition to China itself).
However, only half of the ASEAN member countries are sending top-level political representatives. Vietnam and Myanmar's presidents will be joined by Cambodia's King Norodom Sihamoni, Laotian President Choummaly Sayasone, and Thai Deputy Prime Minister Prawit Wongsuwan. Absent from the list: any mention of top-level representation from Brunei, Indonesia, Malaysia, the Philippines, or Singapore.
North Korean leader Kim Jong-un will also be absent from the parade. Instead, North Korea will be represented by Choe Ryong-hae, secretary of the Korean Workers' Party.
Leaders from outside the region include Venezuelan President Nicolas Maduro, South African President Jacob Zuma, Egyptian President Abdel Fattah el-Sisi, and Sudanese President Omar Hassan al-Bashir. United Nations President Ban Ki-moon will also attend.
In all, Zhang said, there would be heads of state from 30 countries present, with another 19 countries sending government representatives, meaning a total of 49 countries will be officially represented at the parade. Quartz has translated the full list of high-level political attendees into English.
 Who is Going to China's Military Parade?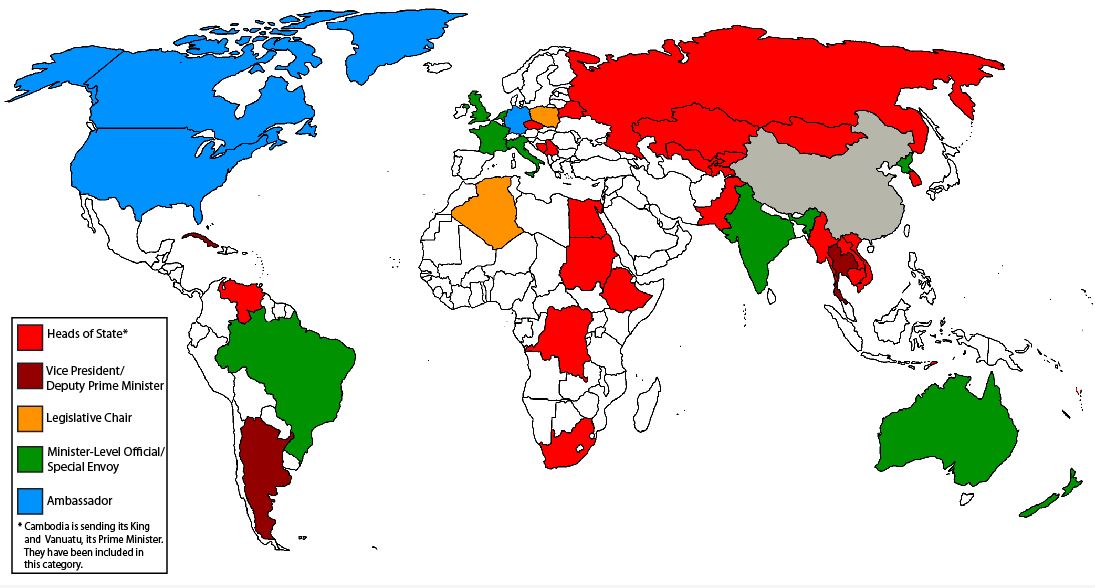 Notably absent from the list: the leaders of the United States or any of its Western allies. Chinese diplomats had previously said that representatives from each of the combatant countries in World War II were to be invited. "We have invited leaders of relevant countries to join the Chinese people to celebrate this great day," Zhang said Tuesday. "But it is their own decision. For us, we respect and welcome all guests."
Zhang added that the United Kingdom, France, and Australia would send unspecified government ministers to the event, while the United States will merely send its ambassador to China, Max Baucus. Brazil and India are also expected to send "special envoys," according to Global Times.
Japanese Prime Minister Shinzo Abe will not be in attendance, predictably enough (although Japanese media previously suggested Abe might visit China soon after the parade). Zhang said that "Abe will be skipping the event because of his parliamentary schedule." He added that the parade is not meant to target Japan and "has no direct link to current Sino-Japanese relations."
However, interestingly enough, former Japanese Prime Minister Tomiichi Murayama will be attending, Zhang said. Murayama's 1995 statement on the end of World War II — and its apology for Japan's "aggression" and "colonial rule" — has become the standard against which other Japanese politicians' statements are measured.
Former British Prime Minister Tony Blair and former German Chancellor Gerhard Schroeder will also attend the parade.
Overall, there's little to surprise China-watchers in the guest list. The leaders of countries China enjoys close relationships with will come; leaders of countries that have more ambivalent approach toward China are staying away. The guest list provides an overview of the regions where China has the most political clout: Central Asia, parts of Southeast Asia, Africa, and (increasingly) Eastern Europe. The only inclusion that could truly be said to be a surprise was South Korea's President Park — and she had already announced her attendance last week.