Confirmed: South Korea's President Will Attend China's WW2 Anniversary Celebrations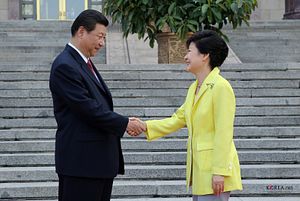 On August 20, a senior official in South Korea's Cheong Wa Dae announced that President Park Geun-hye will be traveling to Beijing to take part in its celebration of the 70th anniversary of the end of World War II. Ju Chul-ki, senior presidential secretary for foreign affairs, told reporters that Park will travel to China on September 2 and spend three days there.
Previous reports suggested something of a U.S.-China tug-of-war over Park's attendance. South Korean media said that the United States was pressuring her not to go (reports later denied by South Korea officials). Washington was reportedly concerned about the optics of Park's presence at the events, which will also be attended by Russian President Vladimir Putin.
The United States also wants to see improved ties between its allies South Korea and Japan, and China's World War II celebrations are expected to continue Beijing's year-long emphasis on Japan's "wrong attitude" toward history. Both China and South Korea recently expressed dissatisfaction with Japanese Prime Minister Shinzo Abe's statement on the 70th anniversary of Japan's surrender.
China, meanwhile, was eager to have Park attend. Her attendance will be seen as a diplomatic "win" for China (particularly given the perception that the United States opposed it).
Ju said, though, that Park may or may not actually attend the military parade that is the centerpiece of Beijing's war anniversary celebrations. "We are still reviewing the matter of attending the parade. As of now nothing has been decided," the Korea Herald quoted Ju as saying. Avoiding the parade may allow Park to strike a balance between the United States and China's conflicting desires.
Senior representatives of both of South Korea's major parties, the ruling Saenuri and the New Politics Alliance for Democracy, had urged Park to go to China. Such a visit "is a great opportunity for her to play a balancing role in finding a breakthrough in issues related to North Korea," Moon Jae-in, NPAD chairman, said.
Indeed, according to South Korean media, Park's attendance at the events is seen as a way to try and win Beijing's help in smoothing North-South ties. Inter-Korean relations are at a low point, with the two sides exchanging shell fire across their militarized border on Thursday. South Korea believes China can play a key role in reining in Pyongyang. Meanwhile, North Korean leader Kim Jong-un has also been invited to attend the events, but has not yet accepted the invitation.
In addition to attending various commemorative events, Park will likely meet with Chinese President Xi Jinping, Ju said. Cheong Wa Dae previously announced that Park will visit the United States in October for a summit with U.S. President Barack Obama, a rescheduling of a June visit Park postponed as South Korea battled an outbreak of MERS. Those two summits, held just over a month apart, "will offer Park the last opportunity to find a breakthrough for North Korea's nuclear development on a global level," Park Won-gon, a security expert at Handong Global University, told Korea Herald.