Confirmed: North and South Korea Reach Agreement to Deescalate Tensions
Seoul and Pyongyang have reached an agreement to deescalate tensions on the Korean Peninsula.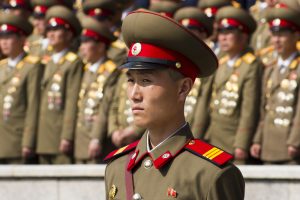 South Korea will get an apology from Pyongyang for its recent military provocations and Seoul will stop broadcasting propaganda via loudspeakers into the North, according to an interim-agreement reached by both sides Yonhap News Agency reports.
The negotiations that were taking place in the  "truce village" of Panmunjom, inside the demilitarized zone, purportedly ended at 00:55 local time on Tuesday after 40 hours of talk, according to the BBC. Kim Kwan-jin, South Korean President Park Geun-hye's national security adviser, lead the South Korean delegation, whereas Hwang Pyong-so, a top military aide to Kim Jong-un represented the North during the negotiations.
In the interim-agreement, to be officially announced soon, Pyongyang will allegedly offer "regrets" over the August 4 incident, in which two South Korean soldiers were severely injured by a landmine explosion and for which the North has been held responsible by the South.
As a consequence of the August mine incident, South Korean propaganda broadcasts into the North resumed after an 11-year hiatus. The interim-agreement stipulates that the loudspeakers will be turned off at noon on Tuesday local time–as long as the North does not engage in any "abnormal" behavior, according to the Korea Times. The August 4 mine attack was the first major military provocation involving South Korean casualties since Kim Jong-un took power in 2011.
In addition, South Korea's National Security Office Chief Kim Kwan-jin also stated that the North has agreed to lift its declaration of a "quasi-state of war." Both sides furthermore agreed to host reunions of families separated by the Korean War at the end of September with official talks on this subject to be held in in Seoul or Pyongyang in the next couple of weeks.
As I reported before, North and South have exchanged artillery fire last Thursday with no reported casualties. The exchange was initiated by one North Korean 14.5 mm shell that exploded in Yeoncheon county, in Gyeonggi Province, northwest of Seoul, targeting an ROK propaganda loudspeaker. This was followed by three more 76.2 mm rounds aimed at South Korean forces of the 28th Infantry Division. Sixty residents of Yeoncheon county were evacuated to underground bunkers along with 2,000 other residents along the border. The South responded to the attack with between 29 and 36 155 mm artillery rounds.
As a consequence, Seoul raised its military alertness level to "Jindogae-1," indicating imminent attack or impending invasion based on a five-tier alert system. As a result, the ROK military moved more military assets to the border as did North Korea. South Korean President Park Geun-hye ordered the ROK military to immediately retaliate against any North Korean attacks. The North responded in kind and mobilized both land and naval forces (See: "North Korea Is Deploying Largest Submarine Fleet Since Korean War").