North Korea Is Mobilizing for War
Kim Jong-un has rejected an apology from Seoul and ordered his army onto war footing.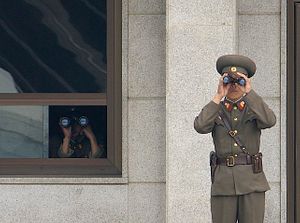 Today, North Korea's leader Kim Jong-un announced a "quasi-state of war" after convening an emergency meeting of the country's powerful Central Military Commission, ordering his army to be ready for military operations beginning at 5 pm local time today.
"Kim Jong-un issued an order of the supreme commander of the Korean People's Army (KPA) that the front-line large combined units of the KPA should enter a wartime state to be fully battle ready to launch surprise operations," according to Korea Central News Agency.
Pyongyang also issued an ultimatum to Seoul to remove propaganda loudspeakers that South Korea has installed in the demilitarized zone (DMZ), broadcasting outside news to North Koreans but also criticizing Kim Jong-un, by 5 pm local time tomorrow.
"There is a possibility of North Korea launching provocations of a certain kind after 5 pm tomorrow," South Korean defense minister,Han Min-koo, stated today.
North and South had reached an agreement to dismantle loudspeakers along the border in 2004, but after an incident on August 4, in which two South Korean soldiers were severely injured in a landmine explosion for which the North has been held responsible, the broadcasts resumed after an 11-year hiatus. The incident was the first major military provocation involving South Korean casualties since Kim Jong-un took power in 2011. According to the South Korean vice defense minister, Pyongyang is likely to fire at some of the 11 sites where South Korea has installed loudspeakers on its side of the demilitarized zone.
North and South have also exchanged artillery fire on Thursday with no reported casualties so far. The exchange was initiated by one North Korean 14.5 mm shell that exploded in Yeoncheon county, in Gyeonggi Province, northwest of Seoul, allegedly targeting a ROK propaganda loudspeaker. This was followed by three more 76.2 mm rounds aimed at South Korean forces of the 28th Infantry Division. Sixty residents of Yeoncheon county were evacuated to underground bunkers along with 2,000 other residents along the border. The South responded to the attack with between 29 and 36 155 mm artillery rounds.
Seoul has raised its military alertness level to "Jindogae-1," indicating imminent attack or impending invasion based on a five-tier alert system. As a result, the ROK military has moved more military reconnaissance assets to the border. This afternoon local time, South Korean President Park Geun-hye has also ordered the military to immediately retaliate against any North Korean attacks.
In addition, North Korea is preparing to launch a number of short- and medium-range ballistic missiles expected to be fired at targets within North Korean waters. "It seems that (the North) is weighing the timing of the firing under its strategic intention to increase military tension on the Korean Peninsula to the highest level," according to a source that spoke to local media The Telegraph reports.
The BBC, however, also reports of a separate North Korean letter that indicates that Pyongyang is willing to resolve the crisis peacefully, although it considers the broadcasts a declaration of war.
Korea Central News Agency (KCNA) meanwhile is stepping up its bellicose rhetoric threatening "harsh punishment," according to The Telegraph's Julian Ryall. "A short while ago, the puppet war maniacs resumed psychological warfare broadcasts along all sectors of the front under the doubtful pretext of the explosion of a land mine. Today, they fired shells en masse into the territory of the DPRK, based on no firm evidence. All of these actions have been prompted by the insane desire of the south Korean military's war maniacs for provocation," KCNA broadcast today.
At the beginning of the week, North Korea also  threatened to attack the United States should it not call off this year's Ulchi Freedom Guardian (UFG) exercise, an annual joint U.S.-South Korean military drill (See: "North Korea Threatens to Attack US Homeland"). However, South Korea and the United States appeared unimpressed by the North's bellicose rhetoric and commenced the military drill on Monday.
Analysis
"Kim Jong Un is still relatively new to the game of bringing tensions right up to the cliff and then pulling back; on top of that, there are legitimate questions about how well he controls all the levers, especially given the chronic reshuffling in the North Korean military and party hierarchy since he assumed power," John Delury, a professor at Seoul's Yonsei University, told The Diplomat this morning.
Delury expressed his concern over Seoul's handling of the crisis:
South Korea adopted a 'disproportional response' theory of deterrence after the artillery battle on Yeonpyeong island in 2010. Seoul has proclaimed that for every one shot fired by the North, the South will hit back with 3 to 5 times greater force. That principle for deterring the North along the contested maritime border seems to apply to the DMZ as well. Thus, in response to four shells over the DMZ by the North, the South hit back with three dozen.
What can we expect in the immediate future? According to Delury:
President Park convened a national security council meeting, and so did Kim. Park visited the front in fatigues, and I wouldn't be surprised if we see Kim overseeing artillery positions soon as well. Pyongyang rejected Seoul's demand for an apology over the mine incident in early August, and Seoul rejected Pyongyang's offer of high-level talks. North Korea has given a 48 hour ultimatum to turn off their propaganda loudspeakers or else there will presumably be further shelling; South Korea seems committed not only to the speakers, but to the theory of disproportional response. How this ends is not clear. 
For now it seems unlikely that Pyongyang would want to risk its survival by starting a full-scale war against South Korea and the United States given the former's conventional military inferiority. However, it remains to be seen how much control Kim Jong-un exercises over his military. North Korean generals, dissatisfied with the leadership's tepid response to what they perceive as South Korean provocations, could take more aggressive actions on their own.