The Tianjin Explosion, As Chronicled on Chinese Social Media
How Sina Weibo brought the news story to millions.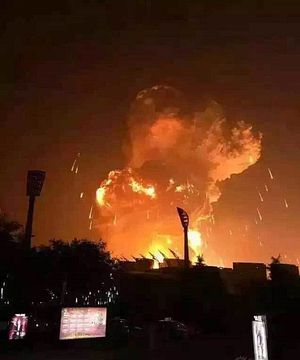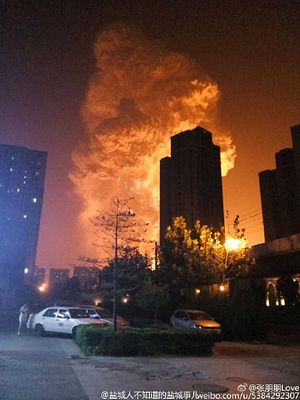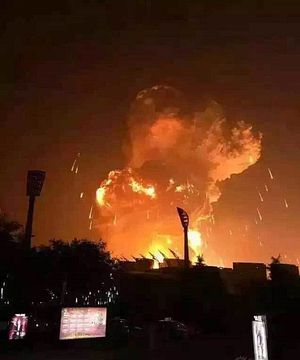 At roughly 11:30 pm on August 12, a fireball exploded into the night sky above Tianjin, a major Chinese port city with a population of around 15 million. That explosion was followed by a second, this one even larger. The latest reports, issued 24 hours after the first explosion, said there were 50 confirmed deaths (including 17 firefighters) and over 700 injuries,with 70 people in critical condition.
Chinese media later pinned the origin of the explosions to a warehouse in the Binhai New Development Zone. The warehouse was owned and operated by Tianjin Dongjiang Port Rui Hai International Logistics Co. Ltd, "a storage and distribution center of containers of dangerous goods at the Tianjin Port," according to Xinhua.
Immediately after the explosions, the story broke online – not on the webpages of Chinese news outlets, but on Chinese social media. Residents on Tianjin shared experiences, pictures, and videos of the explosions, which spread rapidly throughout the night. The activity was most concentrated on Sina Weibo, a micro-blogging platform often called "China's Twitter." Most of the photographs and pictures first used by media outlets originated from Weibo users.
And the discussion on China's social media sphere isn't done yet. On the evening of August 13, the top-trending hashtag on Sina Weibo was "#塘沽爆炸真相#" – "Tanggu [the explosion's location in the Binhai district] explosion truth."
Even as official media sources began to try to shape the narrative (for an outline of the state's game-plan for "guiding" public opinion in a crisis, see David Bandurski's ChinaFile piece from earlier this year), discussions on Weibo called those reports into question. Chinese netizens engaged in a lively debate about the official death count, the cause, and the after-effects (for example, rumors that poisonous chemicals remained in the air in Tianjin were so active that China's state media took time to officially debunk them).
Users also memorialized the firefighters who died in the blasts, posting their pictures and candle emoji, and asked each other to #PrayforTianjin#.
As David Wertime, co-founder of the blog Tea Leaf Nation, which specializes on Chinese social media, put it on Twitter,  "[With] breaking news or a crisis — facts scarce, stakes high, time tight — Weibo is still default digital public square in China."
Below is a selection of photos posted by Weibo users of the explosion and the aftermath.