US Air Force Presents New Guidelines on Dealing With China
The U.S. Air Force is trying to deepen its relationship with the People's Liberation Army Air Force.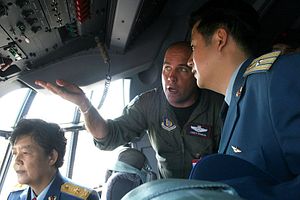 Last week, the U.S. Air Force issued new guidelines regulating contact with the Chinese military in an attempt to strengthen military-to-military relations between both countries.
"With the rise of PRC influence in the international community and the increasing capabilities of the Chinese military, Air Force military-to-military relationship with the People's Liberation Army (PLA), the People's Liberation Army Navy (PLAN), and the People's Liberation Army Air Force (PLAAF) is becoming more crucial than before," the directive reads.
In detail, the instruction regulates U.S. visits to Chinese military facilities, as well as visits of Chinese air force personnel to U.S. installations.
"The success of these visits, whether US or PRC-led, directly affects relationships between the US and the PRC, as well as our relationships with our allies and partners, and is thereby important in support of national and regional politicomilitary objectives," according to the document.
The directive also limits interaction in accordance with the National Defense Authorization Act for the Fiscal Year 2000 (FY 2000 NDAA) which prohibits contacts between both sides that could "create a national security risk due to an inappropriate exposure." The NDAA lists 12 operational areas ranging from advanced combined-arms and joint combat operations to arms sales or military-related technology transfers that are off-limits. Consequently, the directive prohibits interactions between U.S. and Chinese military personnel in the following areas:
Force projection operations, nuclear operations, advanced combined-arms and joint combat operations, advanced logistical operations, chemical and biological defense and other capabilities related to weapons of mass destruction, surveillance and reconnaissance operations, joint war-fighting experiments and other activities related to a transformation in warfare, military space operations, other advanced capabilities of the armed forces, arms sales or military-related technology transfers, release of classified or restricted information, and access to a DoD laboratory.
Chinese officials continue to point out that FY 2000 NDAA hampers deeper cooperation on a range of issues. American and Chinese pilots fought each other during the Korean War. However, after U.S. President Richard Nixon's visit to China in 1972 cooperation between the two service branches increased. For example, during the Cold War the USAF and PLAAF exchanged intelligence on Soviet forces and China even exported a group of J-7 fighter jets to the United States for the American military's "Red Eagle" MIG squadron.  Yet, the United States suspended all mil-to-mil contacts and arms sales in response to the violent suppression of the Tiananmen Square protests in June 1989.
A report by the Congressional Research Service notes that "skepticism in the United States about the value of military exchanges with China has increased with the experiences in the 1990s; crises like the PLA's missile exercises targeting Taiwan in 1995-1996, mistaken bombing of the PRC embassy in Belgrade in 1999, and the F-8/EP-3 collision crisis of 2001; and China's confrontations over maritime areas."
Tensions between both countries have increased over the last couple of years despite a brief thaw in the relationship in 2013 when President Barack Obama and Xi Jinping agreed to deepen military-to-military interaction at the Sunnylands Summit. Deputy Defense Secretary Robert Work recently emphasized that the Pentagon "cannot overlook the competitive aspects of our relationship, especially in the realm of military capabilities, an area in which China continues to improve at a very impressive rate."