Fear of Terrorists Ripples from Paris to Moscow
A deputy speaker in the State Duma floated the idea of restricting entry to Russia for citizens of Tajikistan, Turkmenistan, and Uzbekistan.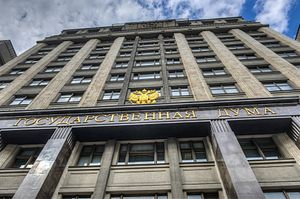 On Friday night, a series of terrorist attacks in the French capital, Paris, left 129 people dead and injured 300 more. The devastating attacks drew international attention and set off a series of reactions–from sympathy to fear. In Russia, one of the responses has been to float the idea of restricting entry to the country for citizens of Tajikistan, Turkmenistan and Uzbekistan. No mention was made of Kazakhstan or Kyrgyzstan.
The attacks in Paris were claimed by the so-called Islamic State of Iraq and Syria (ISIS) and followed by swift retaliation. On Sunday, French fighter jets bombed ISIS's self-declared capital in Raqqa, Syria. Over the weekend, additional details have emerged about the attackers and their accomplices. At least one of the attackers appears to still be on the loose, a French national* named Salah Abdeslam–whose brother, Ibrahim, blew himself up on Boulevard Voltaire. Abdelhamid Abaaoud, who grew up in Belgium, is said to have masterminded the attacks. One of those who assaulted the Bataclan concert hall–where 80 people were killed–was a French citizen named Ismael Omar Mostefai. A Syrian passport was found on one of the dead attackers, but French authorities say it is a fake–as Matt Ford wrote in The Atlantic this is "casting doubt on whether its bearer was a genuine refugee or even the person named in it."
So far, none of those linked to the Paris attacks have been identified (or even rumored) to have come from Tajikistan, Turkmenistan and Uzbekistan.
On Monday, a deputy speaker of the State Duma, Igor Lebedev, floated the idea of restricting entry to Russia from Tajikistan, Turkmenistan and Uzbekistan. According to AKIpress, Lebedev said that "Today is June 22, 1941, but it is not a war against fascism but against terrorism. We should adopt serious measures, talk to law enforcement agencies and ministries."
June 22, 1941 is the date on which Nazi Germany invaded the Soviet Union, codenamed Operation Barbarossa.
Lebedev said that Russia had open borders with the three Central Asian states. Kazakhstan, which is the only Central Asian state to actually share a land border with Russia, was not mentioned. Neither was Kyrgyzstan. But both Astana and Bishkek are members of the Eurasian Economic Union whereas Tajikistan, Turkmenistan and Uzbekistan are not. If the issue truly were open borders, Kazakhstan and Kyrgyzstan should have been mentioned–technically their borders with Russia are more open than those with Tajikistan, Turkmenistan and Uzbekistan.
Lebedev also made comments–which many, sadly, around the world have also made–that the terrorists were probably among the refugees streaming into Europe as the conflict in Syria continues. Despite the fact that evidence indicates the opposite–that many of the attackers were European citizens–this is a common refrain in Russian discourse.
Russia is home to millions of migrant workers, many of which come from Central Asia–particularly Tajikistan, Kyrgyzstan and Uzbekistan. Further, many of the Central Asians who have joined ISIS in Syria traveled not from their home countries but from Russia where they worked and were likely radicalized. Noah Tucker noted in a report commissioned by the U.S. Agency for International Development (USAID) on the involvement of Central Asians in the conflict in Syria and Iraq that migrant workers experience economic and political marginalization that "makes them vulnerable to violent mobilization along religious or ethnic lines."
By singling out citizens of Tajikistan, Turkmenistan and Uzbekistan as potential threats Lebedev runs the risk of further marginalizing citizens of those countries already in Russia.
*Correction: Salah Abdeslam is now being reported as a French national who was living in Belgium.