Putin Sends Russian Military to North Korea
A Russian military delegation is currently in Pyongyang talking to the Command of the Korean People's Army.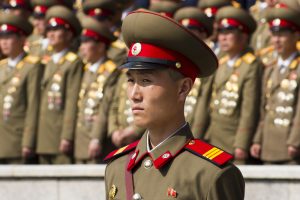 A Russian military delegation arrived in Pyongyang on Monday to conduct a military-to-military dialogue with the command of the Korean People's Army TASS reports.
The Russian delegation, headed by First Deputy Chief of Russia's General Staff Nikolay Bogdanovsky, is slated to begin talks with their North Korean counterparts this Wednesday and will stay in North Korea until November 13.
The precise topics of discussion between Russia and North Korea are unknown, although there have been speculations that a defense agreement "on prevention of dangerous military activities" could be signed as a result of the talks.
According to TASS:
This issue was discussed at a meeting held in June this year in Moscow between Russia's State Duma Speaker Sergey Naryshkin and Chairman of North Korea's Supreme People's Assembly Choe Thae-bok. The sides came to the conclusion that the document "is in a quite high degree of readiness" and "may be signed before the end of this year.
Back in June, Naryshkin told Russian media that "[w]e consider it appropriate to significantly intensify our efforts to improve and to update the legal framework of our relations. We consider it possible before the end of the year to sign two important documents: a treaty on mutual legal assistance in criminal matters and an agreement on preventing dangerous military activities."
The draft agreement has already been approved by the Russian government. According to Interfax, the draft agreement states that an agreement between Russia and North Korea is necessary in order to "to prevent dangerous military activities and promptly and peacefully resolve any incident between the parties' armed forces, which could arise as a result of dangerous military activities."
Furthermore, the draft agreement emphasizes that "in the interests of mutual security, the personnel of either party shall act with the utmost caution and prudence while conducting activities close to the territory or the armed forces of the other party."
Both countries also pledge not to interfere in each other's domestic affairs and pledge to prevent "the creation of interferences capable of hampering efforts to provide national security in an area of special consideration."
"The parties shall implement whatever measures possible to promptly ensure discontinuation and peaceful resolution, without resorting to the threat and use of force, of any incident which could arise as a result of dangerous military activities," the draft agreement further reads.
According to North Korean state media both countries declared 2015 a "year of friendship"  in order to commemorate "Korea's liberation and the victory in the great Patriotic War in Russia."  A North Korean delegation, led by Lieutenant General Choe Jang Sik, deputy head of the Korean People's Army General Staff Operations Bureau, visited Moscow in August to discuss the possible participation of a North Korean team in the "2016 International Army Games," annually hosted by the Russian Ministry of Defense (See: "Russia Beats China in This Year's International Army Games").